What a gorgeous day it was. Sunny, breezy and my nose was runny, sneezy! Have you heard that the pollen in our air is increasing due to global warming. In some areas like, Atlanta, the pollen count has been 26 times normal. Thank goodness for modern day remedies.
Today, STASH (Some Thursday at Someones House), was here. We had a great show and tell and a wonderful discussion of Twyla Tharp's book on creativity. We are only on chapter 2. It was Terry's birthday. Here she is with her new polka dot piece and other red adornments. Can you tell that she loves any shade of red? It looks great on her, don't you think? You can get a sneak peak at the polka dot piece.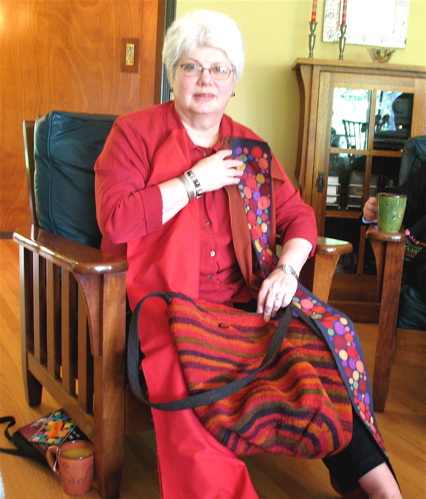 Beth had to leave early, but the rest of us went to Papa Haydn's for lunch, to celebrate birthdays, because they have the best dessert menu — a list of about 20 delectable treats. I ordered the Boccone Dolce — Swiss meringues drizzled with semi-sweet chocolate, layered with fresh fruit and chantilly cream.
Here are Reva, Linda, Gale and Terry, with empty dessert plates. I forgot to get photos of the desserts. You can see that we dined al fresco.
Tonight, Mr C and I attended the Cathedral Maundy Thursday Agape meal and the very moving service after. The meal was Mediterranean — lentils, couscous, humus, pita, feta veggie salad and Baklava.