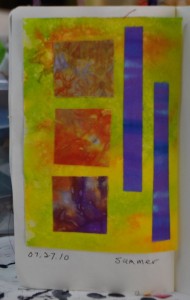 As of 10:30 tonight, 95 people have left a comment, hoping to win Jane's book. It was so much fun reading all of your comments today. On Friday, I will use a random number generator to announce the winner. So if you are just reading my blog today, you still have time to leave a comment on yesterday's blog for a chance to win Jane Dunnewold's new book, Art Cloth.
I was so tired after dinner tonight that I thought I could not possibly do a fiber sketch. I printed out my leaf templates on freezer paper and played some solitaire on the computer. I went into the studio to iron the freezer paper to the painted lutradur and I suddenly wanted to use some of the lutradur for a sketch. I titled it summer. By the way, I cut out some leaves and the lutradur is going to be perfect.
This morning, I washed out the dyeing that I did yesterday. Got some great results with the t-shirts. The fabric was less than spectacular.
I used a cool black dye for this shirt – you can see the blues that have shown up.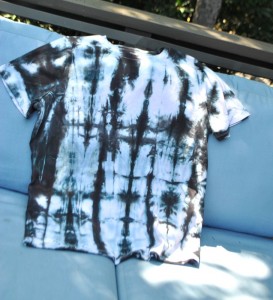 For several of the shirts, I used chocolate brown and teal — I really like this combo.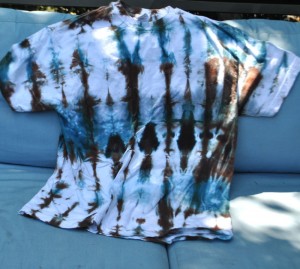 Here is another version of the teal and brown for Mia.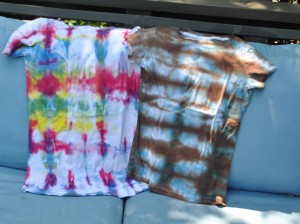 This is some cheese cloth that got dunked in the black dye. I like this.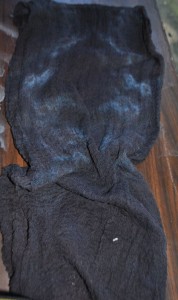 This is another piece done with teal and chocolate brown. I think this will bee really cool for discharging.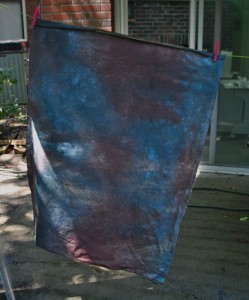 I love this wacky piece. I hung the fabric on the clothes line and poured various leftover dyes on to the fabric ala Robbi Eklow. I love a piece of fabric like this that can be cut up and used in compositions. There are many fabulous elements to this.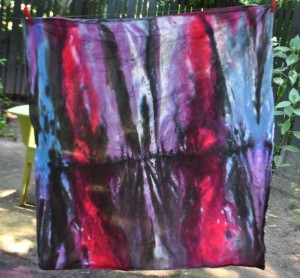 Joining  me in the studio was my faithful assistant, Scooter. He remains calm, cool and collected through it all.