I am so proud of my daughters. Stephanie flew off to San Francisco to spend the week-end with Lisa. They will be hanging and setting up their joint show at Doe. They have put together an amazing show of art and craft, titled Lovely, Dark and Deep. You can see Steph's work here and Lisa's work here. A few of the pieces are a collaboration. Tomorrow night is their opening from 7 – 10. If you are in or around San Francisco, stop by and say hi! I love you, Steph and Lili!!
Last night, I finished Viola's Garden so that Stephanie could take it with her. She will be seeing Viola and her mom and dad on Sunday. Here it is: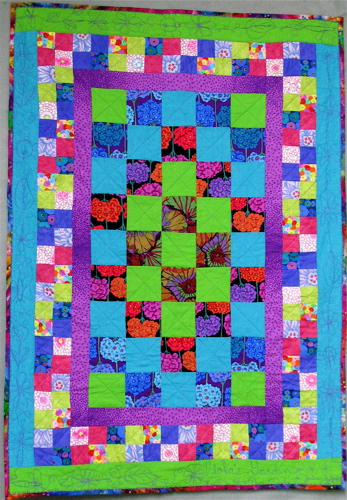 In the borders, I quilted some garden critters and flora.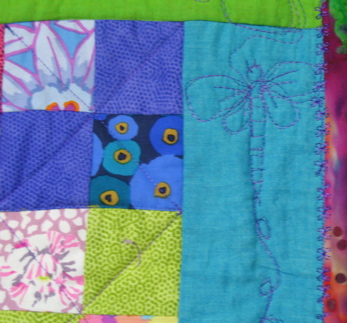 Today, I had an appointment at Nordstrom to be fitted for new bras and a new prosthesis. I was two inches smaller around my chest than I was two years ago – that was surprising! I feel so perky with my new boob and bras.
I did some shopping for M & M. I bought Mia a shirt and skirt to go with the vest that I knitted her. I picked them both up from school and I wanted to take a photo of her in the outfit, but before I knew it, her Dad was here to pick them up. If she wears the outfit to school tomorrow, I can get a photo. I hope.
I have an art show and sale at the Cathedral and a fiber show at a gallery with Columbia Stitchery Guild coming up this month. I have to get busy and finish up some pieces and make some small items for sale in art bins and in the gallery shop. Tomorrow, Miles is out of school at 12:30 so I won't get much done after lunch. I am going to work on some silk scarves in the morning, do some soy wax batik and some shibori.
VIRTUAL END THE WAR IN IRAQ PROTEST:

Thank you to everyone who sent me their address for a bumper sticker. I do not want any postage for this. I just want you to send me a photo for my virtual protest on Flickr. I have more bumper stickers so don't be shy! I need many more photos if this is going to be a successful protest!! Use the contact form at the top of the page. The contact form goes only to my e-mail. No one else has access to your addresses. So please, please join us!