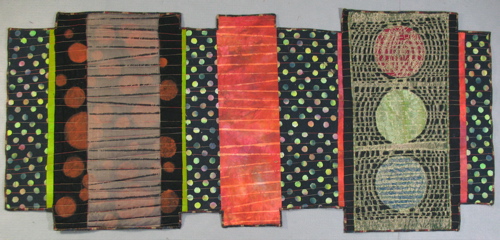 This is finished. I am calling it Karesansui which is Japanese for a dry rock garden. I originally called it Pathways, but since it is going into the Wabi Sabi Japanese garden show, I thought I would give it a Japanese name.
Here are a couple of close-ups: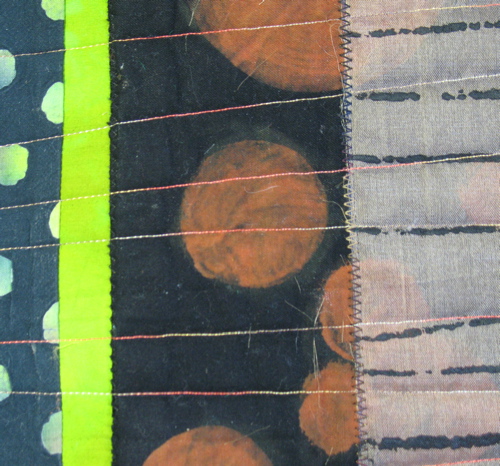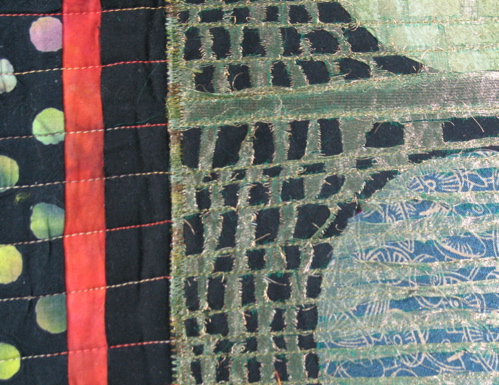 This piece has some discharging and screen printing done with the same linear screen design. I also discharged some circles. The other section is circles of vintage Japanese fabrics with an overlay of metallic silk organza which has been stitched and cut away to form a pattern. The other fabric is a commercial batik.
This is one of those pieces that I have been working on for a long time. I sort of started it in a class with Charlotte Yde at Art Quilt Tahoe back in November. It has changed quite a bit. I find that the longer it takes me to finish a piece, the less happy I am with it. I'm not sure why.
I checked this site and found out that the pollen count here in Oregon is the highest in the nation. The rest of the country is green, and there is a big orange circle over us. So I guess that is why I had this major sinus attack. I am feeling a bit better, but I am here to tell you, this is one nasty ordeal.