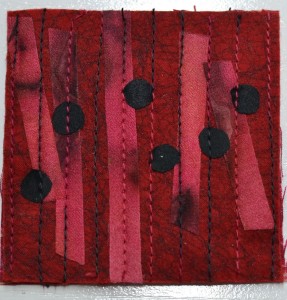 Now,  I know why I have been saving all those bits and pieces of fused art cloth. It is just so much fun to dig them out of a bin and cut and snip and create a little composition. This base of this is red silk organza with black misty fuse over red felt. The strips of fabric are silk with a black spatter design – not sure if it was dye or paint. The dots are black silk.
I have had one of those days away from home for most of the day, that sort of exhaust me. First, I went to the dentist for a check up and cleaning, however, they were running late and couldn't do the cleaning today, if I was going to make my 12:30 lunch meeting in downtown Portland. So, I have to go back in a month for cleaning. The good news is, my teeth and gums are in great condition for my age.
I am part of a steering committee for our annual Artists Among Us at Trinity. It is a fine arts show and sale for one long week-end in May. We have about 50 – 60 artists. It is a lot of work. It has been run by one person for the past 10 years. She retired from our committee and it is taking 3 of us to do the planning. We are making some major changes and I am really excited about it. We had a very long and intense meeting today involving decisions about a lot of the work I will be doing so I came home exhausted.
I decided I needed a change of pace so I took Scooter for a half hour late afternoon walk. It helped to get some of the cobwebs out of my brain.
I have another recent gift to share. This is a beautiful journal made my Nikki Wheeler, one of the Twelves. It is so beautiful, I am afraid to use it , but I do plan to do something great with it.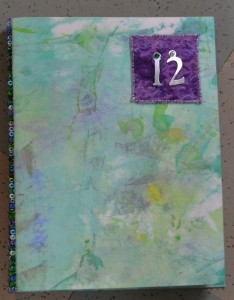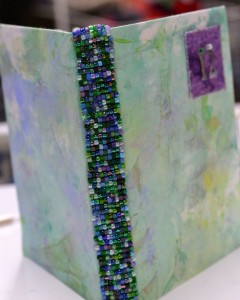 Each one of these was different. I love the details of the 12 insignia and the beaded  spine, not to mention the beautiful paper. Such a treasure.
Mr C is going to be going down to Corvallis for the next 3 days so Scooter and I will be on our own. I have a couple of appointments, but hope to have some good studio time.