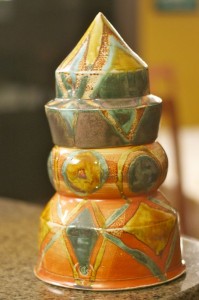 I'm back, for a day or two; today was the last full day of work for the Trinity Artists Among Us show. Today, we dismantled the show and then checked out unsold art to the artists and purchased art to the new owners. I got home at 7pm and went out for Mexican food with Mr C – as I really wanted a margarita.
I am a bit exhausted and looking forward to some time away with my STASH friends on a retreat near Sisters. We are leaving on Wednesday. Tomorrow, I have to take my computer to the Apple Store to be shipped to the Apple Dr. My track pad seems to have a mind of it's own. I will see if I can remember how to blog from my iPad.
That lovely jar up there is called A Prayer Jar. I fell in love with it when it arrived at the show. Mr C bought it for me for Mother's Day. I am very lucky!
Here are some photos from the show. A view of the show with some fiber art. The pieces with the oak trees are by Karen Miller, a superb Katazome artist.
I really liked these screen printed pieces.
This painting really spoke to me – that is truly my color scheme!!
A grouping of metal sculpture.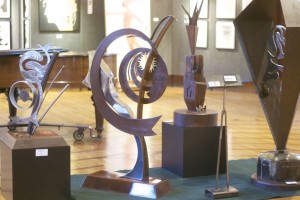 And I M Bookman, created from books and stuff.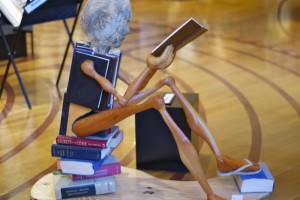 I love how dramatic the walls of Kempton Hall look with paintings from floor to ceiling on the beautiful wood paneling.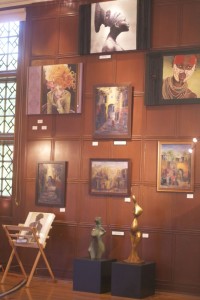 I decided I needed to get back into the studio so I managed to make one green 3 X 3 tonight.