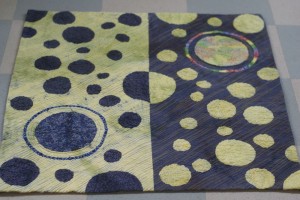 This is my Alternate Universe quilt which I created by using a freezer paper template and Softscrub to discharge. I originally used beads in gel medium in the rings, but it looked really bad. I was able to remove them and spent some time over the last month or so embellishing the rings with Perle cotton. I finished today and looked at the area opposite the rainbow ring and there seemed to be crocking from the rainbow thread. It may have gotten damp while I have been hauling around.
You can sort of see it where I put the red arrow. What to do?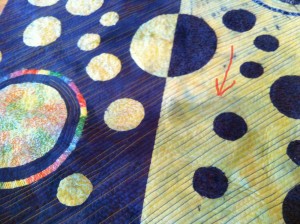 I figured I had nothing to lose so I spritzed it with stain remover and threw it in the washing machine with a dye magnet and washed it.
Here is a detail shot of that area after the washing. I haven't had a chance to steam press it, but I am very happy with the result. There is natural color change from the discharge, but the crocking is gone.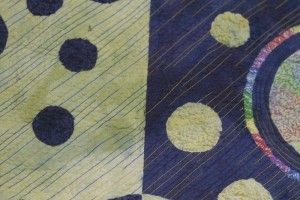 I started this quilt when things started going crazy with politics a coupe of years ago. It is not a very pretty quilt, but it was not meant to be. It was to portray my angst of waking up and hearing the news and wondering what universe I was in. With the events of today — it certainly has not gotten any better.
We had a nice meal with the Portland family yesterday. I grilled a half a salmon and made a scrumptious berry/rhubarb crisp.
Today, I had tons of SDA e-mails to generate and a meeting with Diane, one of the Artists Among Us co-chairs. We reconciled all of the financial stuff with my database so that I can now generate requests for checks for the artists.
So, no 3 x 3s today. Mr C and I are having an evening marathon of catching up with Season 2 of The Killing.