Thank you to every one who checked in and made such lovely comments about my dandelions. I so appreciate hearing from you.
Happy Halloween. Warning!!!! Cute grandchildren photos are coming. Mia as Pippy Longstockings and Milo as a Ghost of Halloween Past (he wanted to wear his costume from 2 years ago!)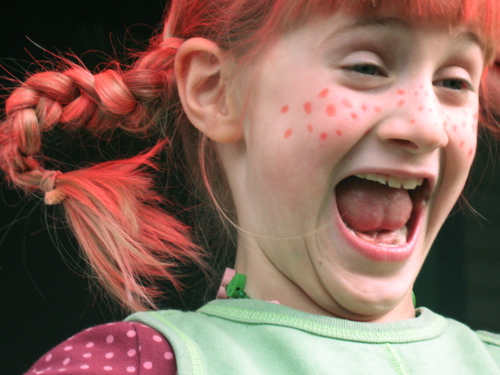 I love the hair. I wanted to borrow the spray hair paint!!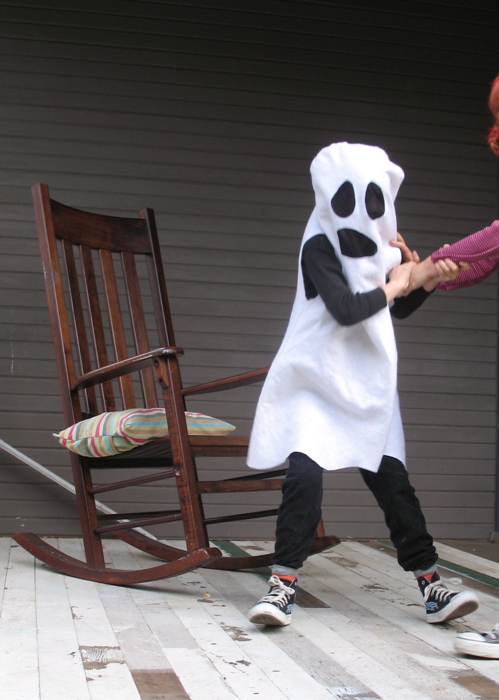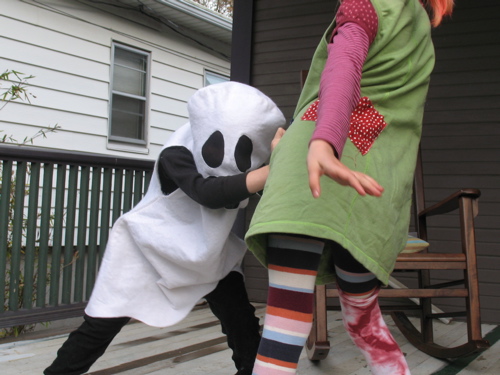 Mia designed this Jack-o-cat and her Mom carved it.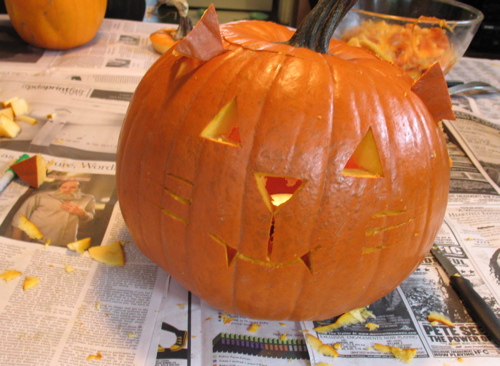 You can see more silly Halloween photos on my Flickr.
We do not get any trick or treaters on our street, but a few streets away there is lots of action — steaming cauldrons with witches, screaming ghouls, bats and pumpkins galore. This is a neighborhood that loves Halloween.
Yesterday, I received a belated birthday present from my good friend, Judy, in Georgia. We have so much in common that it is sort of spooky. We are not sure how we found each other, but I think she stumbled on Lisa's blog and bought one of the Mod birds which she was making and selling at the time. Back then, my girls had links to my blog so a lot of people who read their blogs would come and visit me. I must have embarrassed them at some point because they stopped linking to me!! So, anyway, I think Judy found me that way. We are hoping to take a class together this summer up at Coupeville Art Center. I hope it works out. Judy's sense of humor is just as wacky as mine – maybe even more so.
This is what she made for me this year. It has an aluminum base which is cut out and covered with fabric embellishments. We have our dogs with us. We are wearing our silly hats and our endless/end this war tee shirts. I love that she has given me the body that I aspire to have. So I will treasure this. Thank you, Judy!!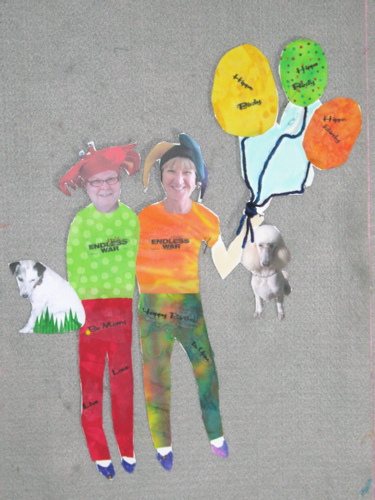 She also gave me one of her gorgeous cards made from her silk sorbet fabric.

Speaking of svelte bodies, today was weigh-in day. I was down, but then, I was up two weeks ago. I am really stuck at this weight, but I definitely am losing inches so I am not going to stress. I am doing up to 70 minutes of aerobic walking a day.