I am slowly getting back into my studio routine and getting past the grief of losing out on the new home that I really wanted. There is still nothing much for us to look at. We are just hoping that something that fits us becomes available soon.
In the meantime, I am having some fun working in my stripped down studio. I have not moved to the new one yet, because it is too far away from where we currently live. Last fall, when I went to my Oregon Critique group, the guest critiquer was surprised that the same person had done the graffiti piece and the moon pieces. She really liked the graffiti piece, but thought the purple which I had used was too flat. I decided to change it to neon pink. Little more shocking, don't you think. Here is what it looked like before.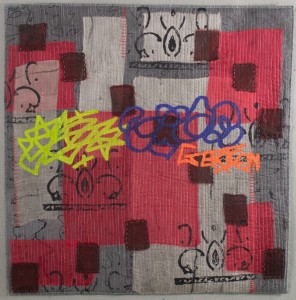 The moon pieces have been weighing on my mind. I was not happy with the hand stitching I had done. So I have been working on this one to see if I can resurrect it.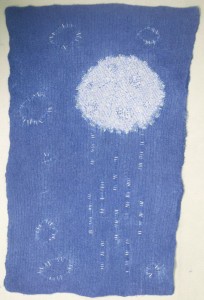 I removed all the hand stitching except on the surface of the moon. I used a blue fabric pen to make the perle cotton all dark blue instead of variegated.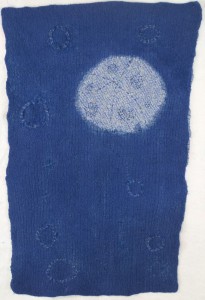 Where I had the little white circles, I covered them with a variegated silk ribbon, which is more subtle and adds a bit of interest to the surface. If you click on the image, you can see the detail better.
I have also been doing some therapy sewing.making a quilt for Paige, using Lisa's fabric line. I am doing the disappearing nine patch which is so easy and you end up with blocks that belie the simplicity.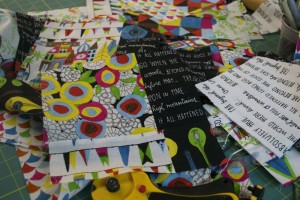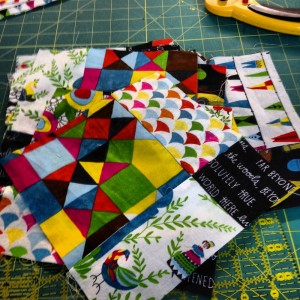 And,  so there you have it. You knew I couldn't stay maudlin for long, right!!