Did you hear it? The big sigh and cry of joy emanating from this place this morning? And, Dee, you can say I told you so! The Cross Quilt arrived at its new home this morning. I then received an e-mail that said:
It arrived and it is gorgeous!!!! One problem though — The box was damaged
and bent in the middle when it arrived and the top metal bar is bent. UPS
noted it was damaged and said the UPS office from which it was shipped will
be responsible for replacing this part. I hate this happened but it is more beautiful than I even imagined. Thank you Gerrie for being obedient and using your God-given talents for this ministry!

Know that you have "set the bar" high with us! Go for it!! Never
underestimate your God-given talent and how you use it. He has blessed you
with it, you honored the talent, used it and now he blesses you again!
OK, so it was not all good news. I can't believe that the box I had it in could have been crushed and bent so easily. The aluminum hanging rod was damaged beyond repair so I have ordered a new one. I shipped with UPS because they let me insure it for its full value and FedEx wouldn't. So I have ordered a new hanger and we will have to wait to see it hanging for a week or so. Thank goodness the quilt was not damaged. I had it wrapped in cloth and tied, then wrapped in plastic garbage bags and then wrapped with bubble wrap. It was in a double box designed for shipping art work.
Of course the best news is that they love it.
It is still unusually hot in Portland. Steph and the kids came over this afternoon to hang out in my basement where it is relatively cool. We also made a trip to Fabric Depot where they are having 30% off all fabric. Steph got some wonderful things for her stuffed animals and tissue holders. I picked up these goodies: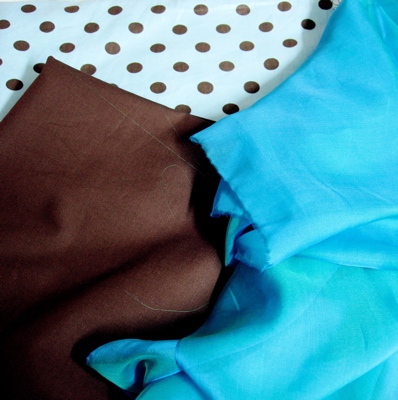 The polka dot and brown are for something special I am making for Steph. It is a surprise so I can't say what it is right now. The teal is silk organza to make a sash for Mia's flower girl dress. I bought her a plain white, tea length dress at Nordsrom (it is white organza over taffeta0, but I wanted to dress it up with a sash to match the bridesmaid's dresses.
I also bought Teflon fabric to cover my ironing table and white felt to cover my screen printing and painting table.
Later, Jack came over and we all went to an air-conditioned restaurant and had pizza – well I had a salad with shrimp and bubbly water!