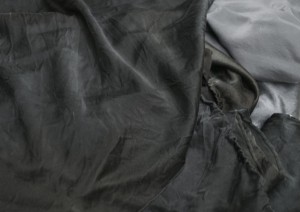 I thought that eventually all the commitments that I have taken on would pile up, and I would start to panic. After a bit of self talk, I got my act together  today and was able to bring order out of the impending chaos. I feel good about that.
I have been getting to the studio a bit each day, which helps to balance all the left brain stuff. I over-dyed one of the silk pieces that was not quite black and another undyed piece. I soaked them in vinegar and then into the silk black dye and into the microwave.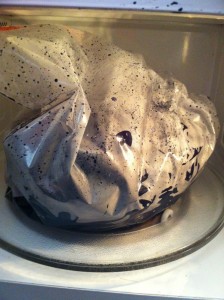 I got a much better black. You can see it in the first photo next to one of the pieces from the other day. The silk didn't dye as evenly this time as you can see here.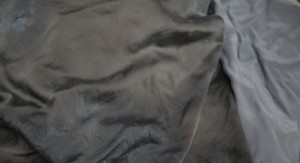 But, I think it will work for what I want – at least the blacker sections. I also Mistyfuse the rainbow silk.
I also drew some sketches of the piece I plan to make with these fabrics. I won't be able to show it for a bit as it is for an invitational show and we have been asked to keep the pieces under wraps for now.
I have continued to stitch the 3 x 3s together – having fun pairing beads with each section.
Here are my sketches from the last  two days.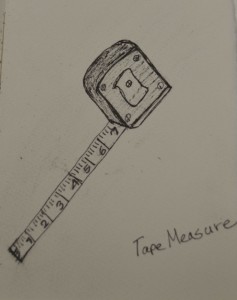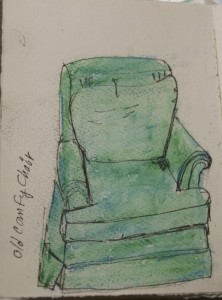 This is the comfy old chair in my office – I have had it for so long.
Mr C brought these to me today. It was a gray rainy day and they were a delight.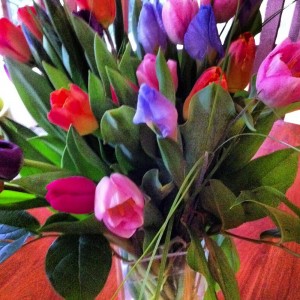 Tomorrow, I am doing the food for the opening reception of the Trinity Arts exhibit. The artist is from Argentina so I am doing some regional food — steak with Chimichurri sauce, Empanadas and a few other goodies.