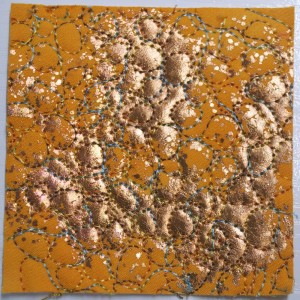 This last of the yell0w-orange series was done with some copper foil from Martha Stewart crafts. I ran out of silver foil and went out in search of a substitute. Found some in the MS sections of Michaels which was to be applied with a special glue and then burnishing. It did not work. So I tried a piece of the copper foil with Wonder Under  for this. It worked!
Here is the almost finished organ piece. It is so hard to photograph reflective stuff so trust me that this looks better in person than in this photo. I also need to redo the piece of filigree at the bottom of the piece. I wasn't happy with the one I had cut. I will do that and finish the edges, probably with a facing and call it done.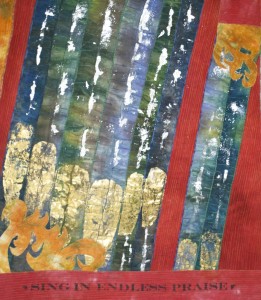 Here is the photo that I was working from: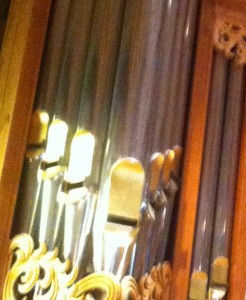 It is not quite what I envisioned, but close enough.
I can't believe that it is December, tomorrow. We have a busy week-end. Symphony tomorrow night and Bach Christmas at Trinity on Sunday.
Have a good one.