I am looking forward to a week of kicking back and catching up with my self. I have been on the run since we came back from the desert. I am beginning to feel a little cranky. But, I have to remember that I am doing what I want to do . No one is holding a gun to my head!!!
The binding on the piece for Fiber Art for a Cause is almost finished. Tomorrow, in the daylight, I will take a final photo for Virginia. I took it to STASH today and everyone said it looks so different than it does on the web. It really is a very rich piece with some lovely vintage Japanese fabrics. Thanks to Dee, it has a proper title: Noshi Ribbons.
Tonight, I finished my piece for the SDA Off the Grid conference member's show.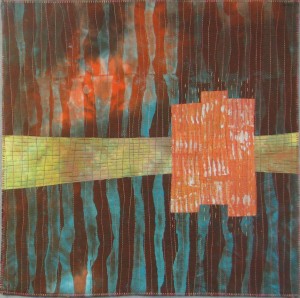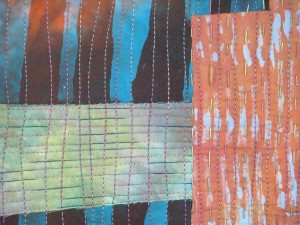 I have had the base fabric for some time. It was a brown fabric with orange in the mix that I discharged with torn masking tape resist. I added turquoise dye to the discharge paste. That orange glow always looked like a sunset through a fence. I added the other fabrics to the mix and call it Sunset Composition. I also added some hand-dyed Perle cotton to the mix. I need to sew a hanging sleeve to the back and get it ready for shipping before I leave for Eugene tomorrow.