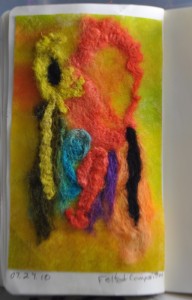 # 124 — Brooke Atherton! Congratulations. Send me your snail mail via the contact tab at the top of my blog and it will be on the way. For those who missed out, I suggest that you go to Jane's website — Complex Cloth — order the book, and she will autograph it for you!! Thanks, again, for entertaining me with your comments.
As you know, from my tie dyeing escapade, I am heading out of town next week. My daughter and family are coming to house and Scooter sit. So, I have spent some time today, trying to get the downstairs area cleared of  my messes so that M & M have a place to play. I think they are bringing their Wi with them and they need some space.
Tomorrow, I am going to try to de-clutter my studio. It has reached that stage where I can't concentrate on anything because of the messes. I need to get the aspen piece done asap. Once I get my leaves cut and everything attached with some final stitching, it will be ready for photography.
My fiber sketch for today was so much fun. I read recently that you can use lutradur for machine felting. So I cut a piece of my leaf fabric and felted with some of my curly dyed roving. It works very well. I like it because I am not starting with much thickness. So I will do more of this.