Remember the mixed media round robin collage that I am participating in with 10 other QA members? Well it is the end of the month and end of round one – time to send the piece I have worked on to the next artist. I woke up this morning and new what I was going to do. I received mine late because the 12th person had to drop out so it has been sitting in my studio waiting for me to get my act together.
I received this background on water color paper from Frances. It had lots of green with splashes of metallic and bits of teal. It has lots of texture.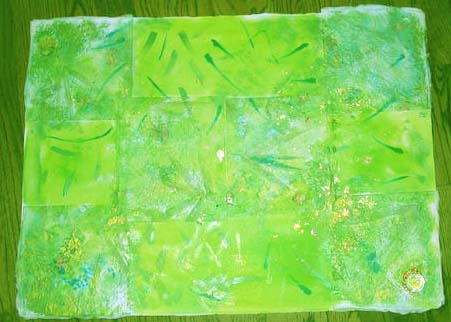 Since I am doing round 2 of a total of 11 layers, I decided to enhance the background and not get too dimensional. I also decided to stick with the palette that Frances used, but to bring in some more value change.
Since the piece has an organic feel, I decided to use some leaf imagery. First I tested one of my leaf stencils on watercolor paper.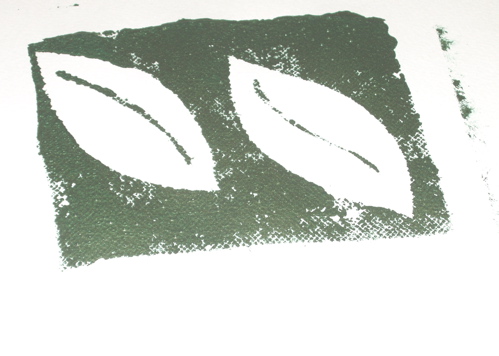 Then I stenciled the design using bronze metallic paint.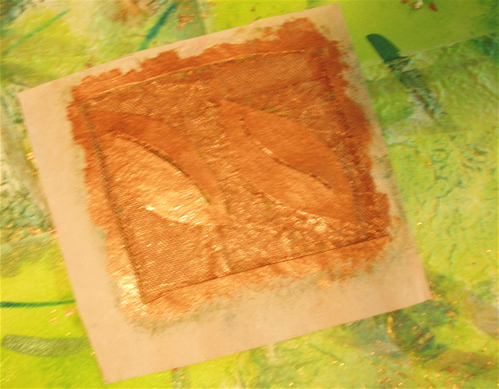 I then pulled out some of the leaf stamps that I carved last spring and tested them on watercolor paper.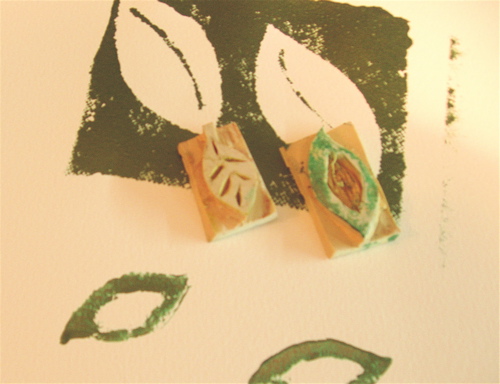 I used gold and copper metallic paints. I then took this photo.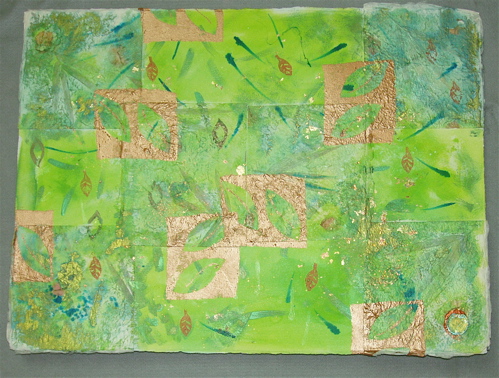 I felt that I needed another large image coming off the right hand side and that I needed to make more of a mark on the piece. I got out my spotted stamp and some turquoise metallic paint.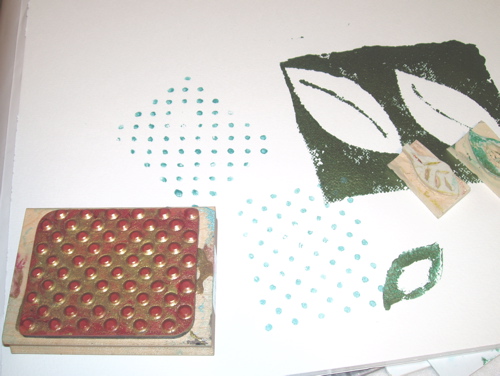 I t was just the effect that I wanted. I hope you can see the sparkly effect of the dots floating across the piece.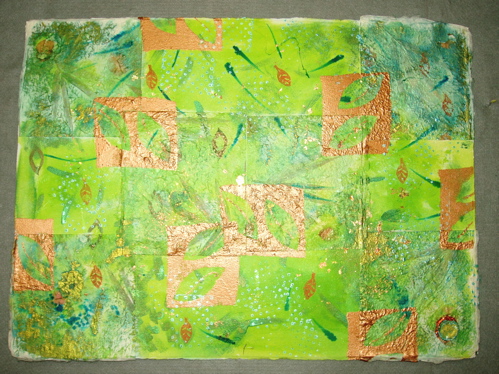 Here are a couple of close-ups: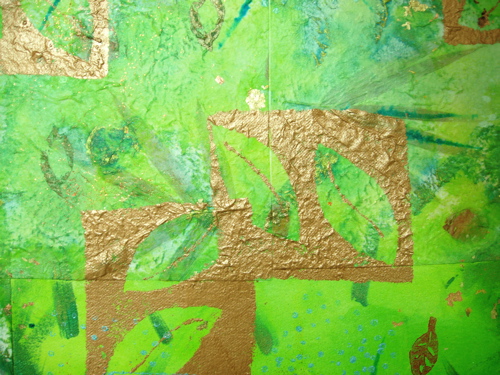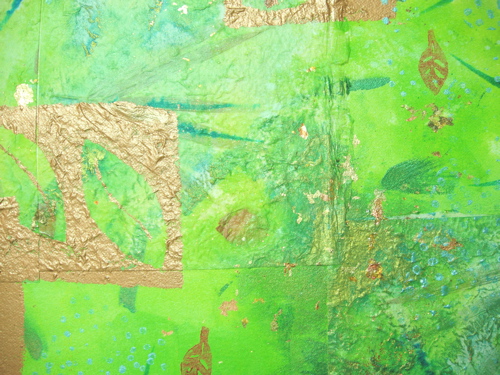 Rita has posted these photos of the second phase for mine: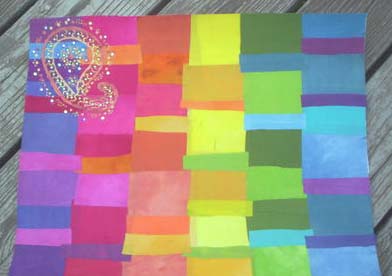 This is a beautiful paisley motif. I think it may be beads and ribbon trim, but I am not sure. Here is a close-up: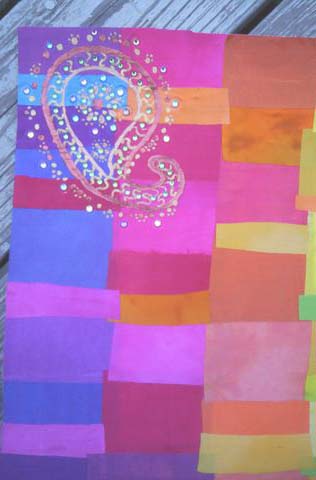 M & M came over this afternoon and played in the backyard while I sat and did Perle cotton stitching on my current project. Then we went to Burgerville for supper ?¢'Ǩ'Äù I just had to have frozen yogurt with fresh blackberries for dessert. Shame on me because I didn't have time to get in the additional 1000 steps I needed tonight and now it is dark. Giving baths and putting the two of the to bed wears me out.
We finally chose a paint color for the living room and hallway. It is called oak. It is a pale yellow with a hint of brown in it. It looks great. Mr C finished the painting today. We had insulation blown in to the attic on Tuesday. Today, I was putting linens away in the linen closet and found a mess. They had broken through the ceiling and old and new insulation covered everything. Now they have to come back and fix it. I guess one of the guys finally fessed up to going through the ceiling.
If I don't post tomorrow, maybe I will post from Seattle. It is our 42nd anniversary this week-end so we are going to Seattle for some fun.