I am so exhausted with the multitasking. I would love to spend a week with nothing I have to do! I have been juggling the SDA conference registration, working on the 12 X 12 challenge piece and preparing and teaching a workshop and still doing the shopping, cooking and laundry for the two of us.
I must say that teaching the workshop was really a lot of fun. As usual, I over planned things. But, I wanted them to have options. There were 9 or 10 people at the class. The classroom was not ideal for spreading out and working, but the classrooms were being used for another all day program. Everyone seemed to have a great time. I think Angelina fibers were the big hit of the day!!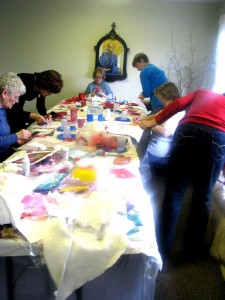 Here are some photos of work. They really loved the fiber postcards most of all.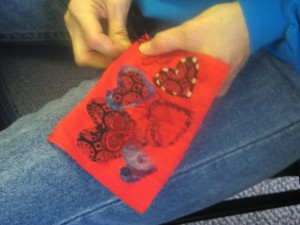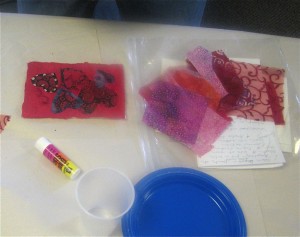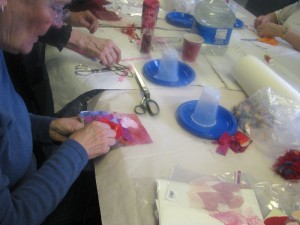 This is my youngest student – 16 years old. She was great at dealing with all the mature students and teacher,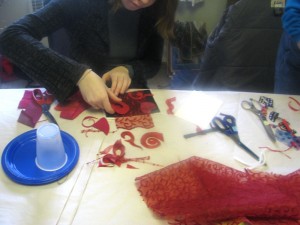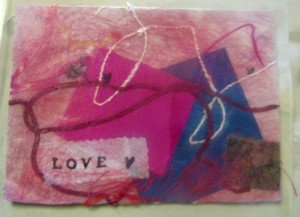 My friend, Diane, made this lovely valentine with bits of lime green. I love it.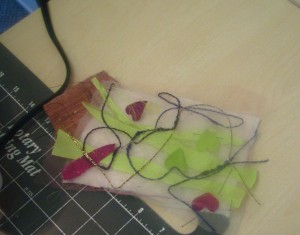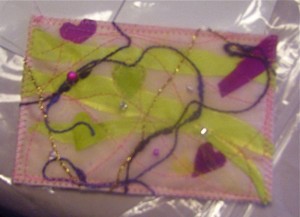 I came home and put my feet up for an hour, had some lunch and headed to the studio to finish the chair piece for the 12 X 12 reveal tomorrow. I have been working on it all week and had a breakthrough yesterday. I had it done except for fusing and stitching. I am very pleased with the end result. Be sure to check in tomorrow for the reveal.
I have to get cleaned up. Mr C is taking me out to dinner. Next on my plate is a major clean up of the studio and reorganizing and setting into the newly painted office. I also plan to finish my piece for Virginia Speigel's Fiber Art for a Cause Reverse Auction. I think she has been ready to give up on me, but she knew that I have a very busy schedule. She has gone to Texas to be an artist in residence so I will have the piece ready for her when she returns.