I had a spectacular day. The weather was gorgeous. This morning Reva (my art quilting neighbor), Terry, Beth (another member of Stash) and I went on an art date. Our first stop was the Contemporary Crafts Museum and Gallery. The current exhibition is titled, New Embroidery: Not Your Grandma's Doily. The works all contained vintage textiles, many that were embroideries. These were then embellished in new ways with embroidery and other effects. Some were really humorous. It was a great show. If you click on the link above, you can see a few of the pieces.
We then went to the Portland Art Institute to see gowns made of paper. They were really exquisite and had been worn in a fashion show so they were wearable art.
We enjoyed lunch on the patio of Henry's, formerly the Henry Weinhard Brewery. I enjoyed the surrounding architecture: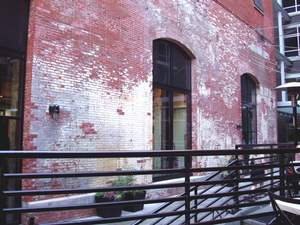 I dashed back over the bridge and dropped Reva off and picked Mia up at school. She had an early dismissal day. It is Steph and Jack's ninth anniversary and they went out to the Columbia Gorge for a hike, something they can't do with two kids in tow! Standing outside Mia's room, I saw these wonderful self-portraits that the children in her class had drawn so I took a photo of hers.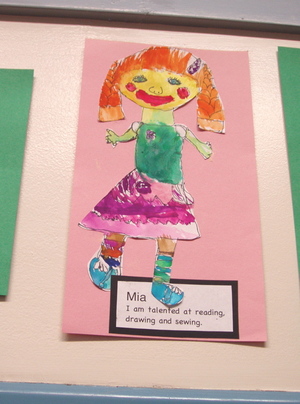 I was impressed with the detail in her drawing and notice that she is talented in reading, drawing and sewing!!
We had an hour and a half for some fun back at my house before we picked up Milo. She spent most of the time reading. I had purchased some new books for her and she devoured them. We picked up Milo and went to the park across the street from his pre-school for a snack and some play time.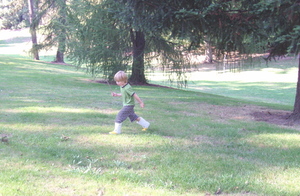 Oh, but, look! Mia is still reading!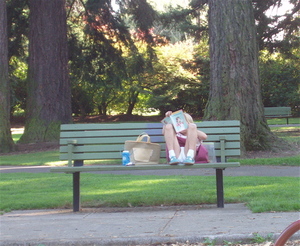 It was a great day capped off by dinner at church and an hour with a group discussing how to get connected in such a large church. We go every Wednesday and enjoy a lovely catered dinner for $7.50 ?¢'Ǩ'Äù can't beat that. We have met some other people new to the area or new to Trinity.