Tonight, I am very happy that this blog is powered by Word Press. At the moment, Google has locked our 12 X 12 blog, saying that it was a spam blog – whatever that is. This has happened on the eve of our Illumination reveal. So, if you do not see any new work tomorrow or today (whenever you are reading this), that is why.
This was my horoscope today:
Do it right the first time. Past mistakes may nip at your heels in the next few days. Put finishing touches on existing projects.
I decided that was a very good message so I finished 2 pieces today — the illumination piece, which I cannot reveal, yet, and my piece for the SAQA auction, which is now titled, Copper Highlights as I used copper foil for some oomph.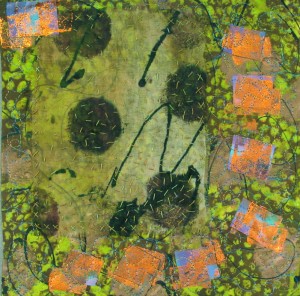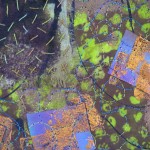 I think the zippy silk with purple and turquoise and the copper foiling adds an unexpected element to this piece. I had a terrible time with the machine quilting. I changed needles and finally decided it was the heavy weight thread. When I changed to a rayon thread, it was smoother, but I still had tension problems that I am not happy about. I might have to unsew and try again. I should have paid more attention to my horoscope.
A lot of progress was made on the bathroom today. The plumbers came and installed all the fixtures, but not before they created a minor flood that ended up in the basement storage area. They had turned off the cold water, but not the hot!!
Here are out sinks and the faucet that I love!!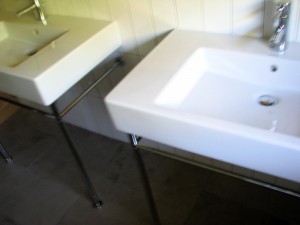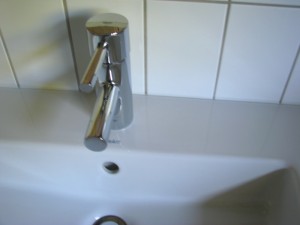 Here is the fabulous rain shower head: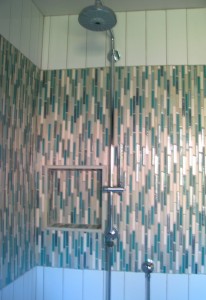 And this is the swanky tatami shower base that Mr C found on the internet. No one had ever ordered one from the Portland supplier and no one really new how to install, but after some trial and error, here it is.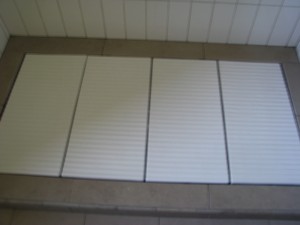 It consists of four porcelain grooved slabs that can be removed for cleaning, but the lovely thing about it is that you can not see a drain and there is no tile grout to get grungy!!
Now we are waiting for the electrical and the cabinets to be finished. Then, I have to get my closet outfitted. We are seeing the light at the end of the tunnel.