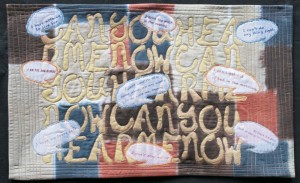 I wanted to do a piece on depression for the SAQA I'm Not Crazy juried show. I have periodic bouts of depression and other members of my immediate family have also suffered from this mental dis-ease. I started with discharged letters that read Can You Hear Me Now, repeated. I used gold deColourant and a stencil.
I then printed depression self-talk on silk organza.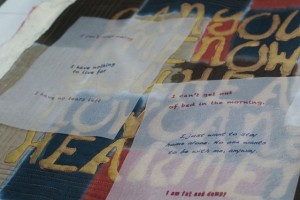 I used Mistyfuse on the back of the organza and then cut out "thought bubbles." I wonder if we could hear the self talk of victims of depression, could we intervene and help sooner?
I know when I am depressed, I have two personalities. I can put on a smiley face for people, but when I am alone, I fall into the depression self talk mode.
I digress. I fused the thought bubbles to the discharged background and zigzagged the edges.
Here is a detail.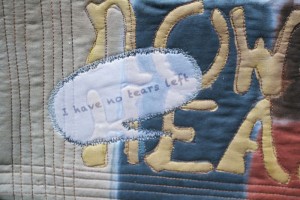 Tonight, Mr C and I went to a harpsichord concert at the Reed College Art Gallery. The harpsichord was played for the first time. It was a work of art built by a Reed Alum who also taught physics there. Then, we went out to dinner. Now, we are watching more The Killing episodes.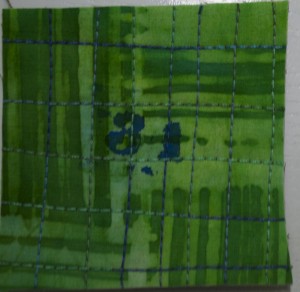 The last of the green 3 x 3s. This is what I do when I am out of time and out of ideas!!