finding this on my walk yesterday.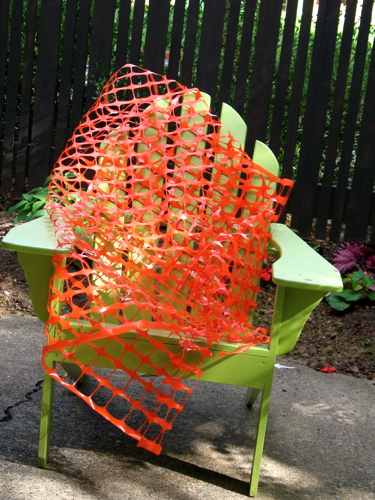 I have been looking for my own piece of construction fence for improvisational screen printing. I had seen a lot of it around a new section of sidewalk and thought about asking the owner of the house for a piece when he was finished. Well, there it was, yesterday. They were dismantling it and I just asked for piece and it was mine!!
spending the afternoon with M & M. I served a lunch of macaroni and cheese, hot dogs and watermelon. We dined on the deck and I taught them to say al fresco, which they thought was quite amusing.
It was quite hot yesterday and the siblings are getting a little testy with each other after a summer of togetherness. I finally suggested setting up a little installation of their little things on the back slope of our yard. It was a miracle. They suddenly were cooperating and having a great time.

They also made some chalk drawings on my studio patio. Here is Mia's self-portrait.

Milo did these drawings of weapons. He is fascinated with knights and vikings and pirates.
But, look, isn't he just Mr Cute?
Tomorrow Mr C and I are going to work the food pantry at Trinity in the morning and then go out to lunch and take in Art in the Pearl. I will try to remember my camera. Labor day week-end is always a special time for us. We were married on this week-end, 43 years ago. Our actual anniversary is the 5th. Mr C has made reservations at the Willows Lodge in Washington State wine country. We will drive up on Tuesday and come home on Thursday. I am a lucky lady!!