Today was the last day of our thickened dyes/liquid resists class, and there was a flurry of activity as we tried to fit in lots of dye painting. When I arrived this morning, I first went to work painting the resisted pieces from yesterday. I mixed up some dark turquoise for these pieces. The first is the potato dextrin resist in which I stamped netting and a plastic grid. All photos are clickable for bigger view.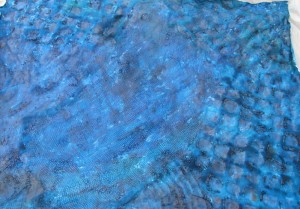 This is the back side, and you can get a better idea of how the resist is working. It is curing and will get washed tomorrow.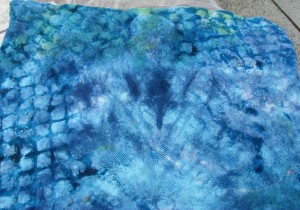 I also used the dark turquoise on the yellow/green silk scarf which had combed potato dextrin. Here is the front.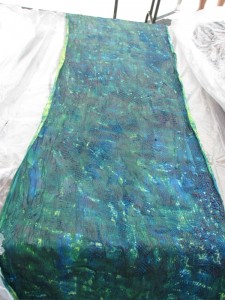 Here is the back which shows how the design created from the resist. I don't know how well this will take the dye. Jeannette says that silk has fewer dye receptors so a second dye does not usually take. I did not know this and have often over-dyed silk. So we shall see!!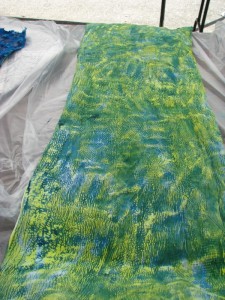 On the white cotton fabric which was screen printed with circles and stamped with bubble wrap, I used chocolate brown. I will probably over-dye this. This is the back side.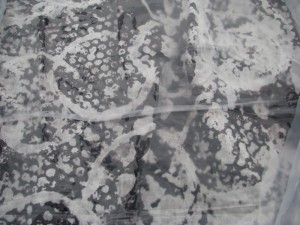 My next activity was to wash out the resist from yesterday's dye-painting. This is a blurry photo of the torn paper screen print with corn dextrin. I think that I will discharge and additional design element on this piece.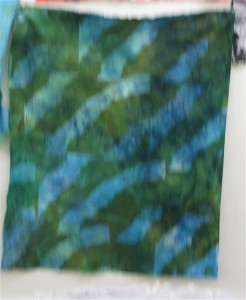 The dye in the corn dextrose worked, but the black color washed out to a gray. The potato dextrin crackle gave it some great texture.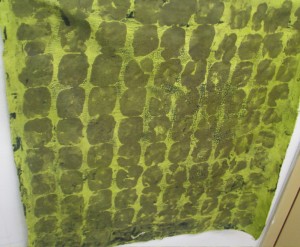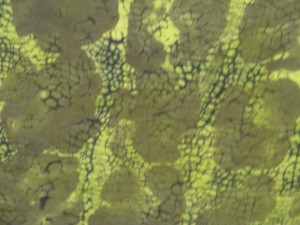 Jeanette demonstrated painting directly on fabric with thickened dyes without resists. I had lots of fun. Here is some free from painting on silk habotai. Hey, Picasso, I'm not!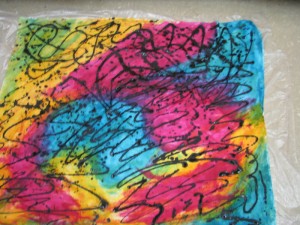 On some organza, I stamped chocolate brown circles with a round sponge and then squirted black paint with a syringe.
This organza is painted with left over thickened dye that I gathered from other students.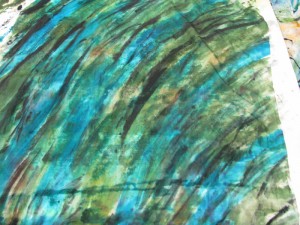 A great time was had by all. I feel more competent to play with thickened dyes in my own studio. just need more time!!