I am having this problem of having my days get away from me and not accomplishing very much on my mental to do list. It is not as if I am lounging by the pool. I am getting lots of things done, but life gets in the way of what I really want to do. Take today, I had some SDA web work to do. I went to the grocery store to shop for the next few days. I took Maggie for a walk. Steve picked up our tile sample for the bathroom so we decided to drive across town to the other tile store to look at tile for the floor. By the time I got back home, it was gong on 4 pm and raining again. Instead of a walk, I did a 20 minute upper body weight training video. Then, I have to watch Keith Olbermann. I made a delicious dinner of maple syrup/balsamic glazed salmon, roasted green beans and a Caesar salad. The day is over!!
Here is the tile. I love the weave that they have created from the colors I chose. The tile in the back is an Italian tile in a taupe – it is not as dark as it seems in the photo – that will be the floor. We have to do our final design and order the tile next week because the renovation will start a few days after we get back from Israel, around May 26.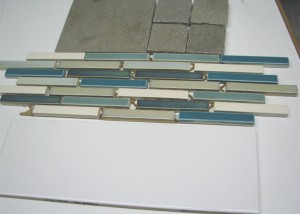 My foot is feeling much better. A pair of orthopedic Crocs arrived today. They are made for Plantar Fasciitis problems. They feel great on my feet.