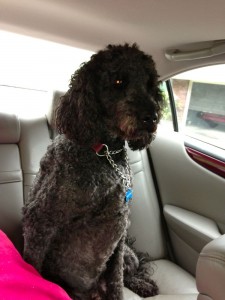 We have been ensconced in our lovely Mill Valley, CA home for a couple of days. We had an uneventful drive down except that I had a raging sinus headache which miraculously disappeared after being in this lovely, warm dry climate. Scooter was happy to go to the K-9 resort for a few days to catch up with his doggie friends.
When we got to CA on Wednesday, it was warm and sunny with beautiful cloud formations.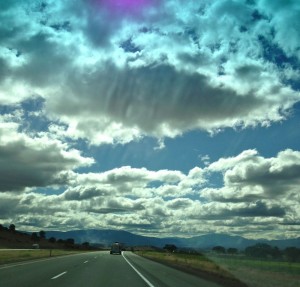 I always love to see the golden hills of summer as I drive through CA.
Our Mill Valley rental is up a canyon and in the redwoods. This is a view from the wrap-around deck.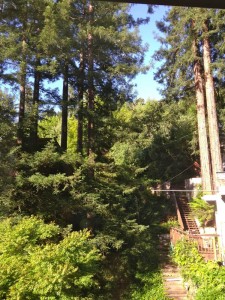 This lovely Bougainvillea is growing on the deck. You can see a fuchsia behind it.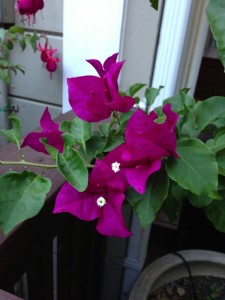 Steph and her family arrived at lunch time yesterday. The house is very spacious and with nice amenities so we are having a great time. Last night, Clay's family came over for dinner so that we would have a chance to get better acquainted before the big events. I made roasted veggies and quinoa and potato salads — all vegan and gluten free. And, Mr C grilled assorted sausages. I had fresh berries and ice cream for dessert.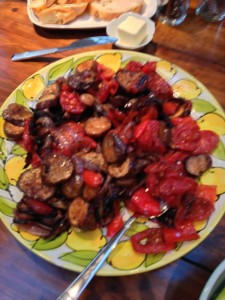 Here is Clay's Mom with Stephanie and Lisa.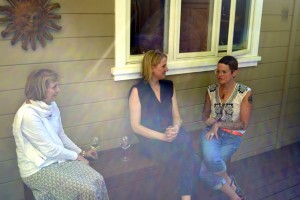 And, Clay, chatting with Jack, her brother Mike and her Dad.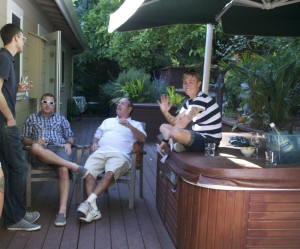 Miles and Mia have been enjoying the hot tub.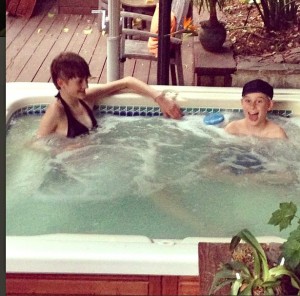 Today, Steph and Jack got up early and went to the SF Flower Mart to buy flowers for the wedding. She is now working on Lisa's bouquet.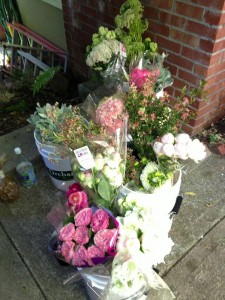 I am waiting for my New York family to show up for lunch and then tonight is the rehearsal shindig at Lisa and Clay's home in Oakland. I am having a wonderful time seeing so many people I love. Not sure when I will check in again.