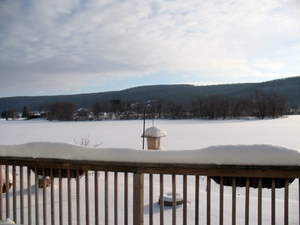 This is a shot of the lake at my sister's home. Here, you can see what it looked like in October when I was here for my sister-in-law's funeral. I love these shots of the boat dock on the frozen lake: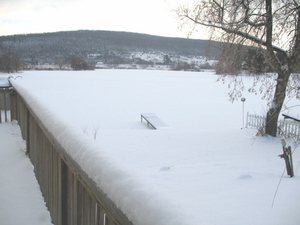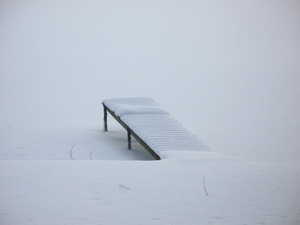 It has been so heartwarming to be here and be part of the celebration of my brother's life. I don't know if I mentioned that he just turned 65. He had begun to adjust to life without Carolyn and was making plans for some travel — even hoping to visit us in Portland. This is a man who never went far from home — his whole life.
We arrived on Monday with barely enough time to change our clothes and attend the calling hours. They were from 7 – 9 pm. My sisters and I stood in the receiving line with my niece and nephew and their significant others. There was a steady stream of people snaking out of the funeral home and down the snowy, freezing cold sidewalk. The line of people did not stop until almost 9 pm. At one point, most of the Dryden fire department, dressed dress blues and whites showed up to show their respects. There were neighbors, town officials, friends of Karen and Kevin, relatives, friends of mine, friends of my sisters, hunting buddies, business associates. He was a much beloved character in his hometown. We heard wonderful stories about a man who knew how to laugh, tell a great story and was bigger than life. He will be missed.
The funeral was yesterday and there was a full house, once again. The family and close friends gathered at his home for great food and more Frank stories. He would have loved that. He would not have wanted us to be maudlin and weeping — but there were plenty of tears. I am so glad that I made the trip in October and got to spend some time with him. It has made this trip easier to bear.
I have had time to do some knitting and have gotten this much done on the button-up vest I am making for Mia. This is pima cotton and wool yarn and it has a wonderful hand.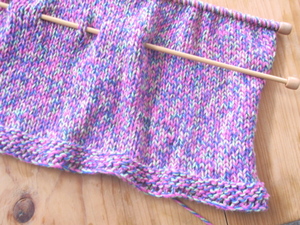 It is almost time to pack up and go to the airport. Our flight leaves at 4:30 pm. We change in Chicago and have a fairly long layover. We hopefully will arrive in Portland at 10:15 pm, just in time to fall in to bed and get back on West coast time.