I was not happy with my black and white print composition so I did some changes in fabrics in the lower right corner. Here it is now: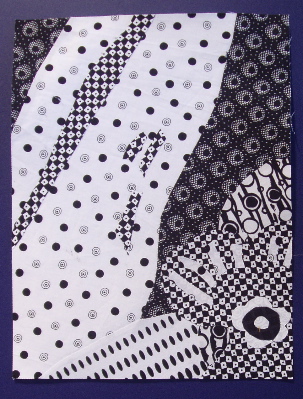 I think this works a little better.
I wasn't going to do it, but I did. Today was the deadline for sending in jpegs and prints of journal quilts for consideration for the journal quilt book that Karey Bresenhan is doing. For the non-quiltart readers, this is a project which is now in its fourth year, in which participants make a quilt the size of a page – one per month (through September). They were then shown at the International Quilt Festival in Houston at the end of October. I only participated in 2003 and 2004. I rephotographed each of them with the tripod. As I was working on them, I was trying to decide which was my favorite. In 2003, I think I liked the one I did from a photograph of a rainbow eucalyptus taken in Hawaii: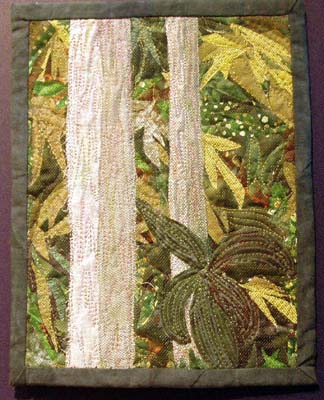 In 2004, I used the same image in all of my journals – a Sycamore leaf that I scanned and photocopied. In this one, I printed the leaf on silk and fussy cut it. I then layered it between silk organza with some tulle in the center to stabilize it. I then couched the decorative yarns.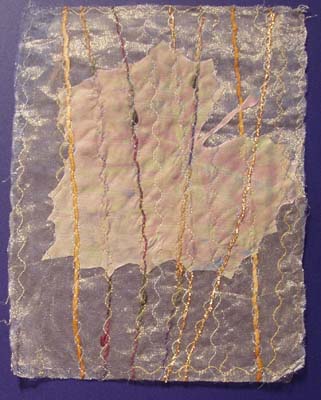 I got some Art Quilt Tahoe pics from Sue Benner today with a note saying she would like some good digitals of my finished work. Guess I better get busy and get the machine quilting done. It will have to wait until we get back from Portland. Today we spent a lot of time looking at houses online that our Realtor, Cynthia sent us. I had my blog address on my e-mail to her and so she checked out my blog. Guess what, she majored in Clothing & Textiles and related Arts at Oregon State. What a small world. I just know that we are going to get along great!!
A BIG SHOUT OUT TO OUR LIST MOM, DIANE, WHO HAS A BIRTHDAY ON TUESDAY, JANUARY 31. HIPPO BIRDY, DIANE!!!!