is almost finished. This is the piece that I am entering in to the She Made Her Mark, a juried show that will start off at the Quilter's Hall of Fame in Indiana. This has been a struggle for me, but I have persevered and am happy with the result. I have to trim it and face it, but that is doable. The final photos have to be done, an artist's statement and a CD sent off to be received by Friday. I can do that even with New Year's eve and two parties tomorrow and helping the girls get the Kim Family Auction up on E-bay for our January 3rd start date. Right?
Actually, last night was the first night that I have not hit a wall at 5 or 6 pm. I was feeling too much like an old lady who could not make an art quilt to save her life. But yesterday was a break through and maybe that was what I needed.
Perhaps some explanation is needed. Many quilters are doing portraits or quilts about a specific woman who has "made her mark." I had already started this piece with the working title, Breaking Barriers, when I found out about the show. I had started the bricks in a class with Rosalie Dace. I made the bricks with the skinny bits for the mortar. My ideas was to have a watery area, breaking up the bricks. Water, as a symbol, is feminine. I thought of water eroding bricks, slowly over time, much the same way that women have over time broken barriers.
I can not show you the final piece – rules of the show. But here is the background before I did the watery section. I used the turquoisy fabric because it looked like debris from bricks. I liked how it echoed the brick shapes and color.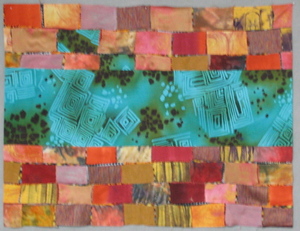 I then cut curvy shapes from a variety of organza's in various shades of blue (silk, of course) and fused them over that center section. Yesterday, I embellished with Angelina fibers, beads and ribbon. This, was, of course, purposeful embellishment!! I am almost afraid to show it to Terry Grant, who has a problem with embellishment, but Terry, I tried to be judicious. I just wanted the water to look feminine! Here are a couple of sneak peaks.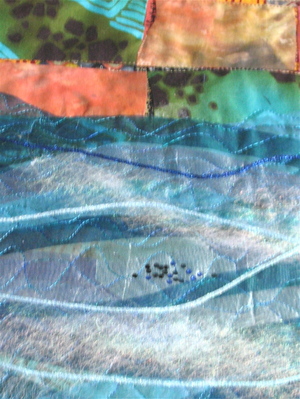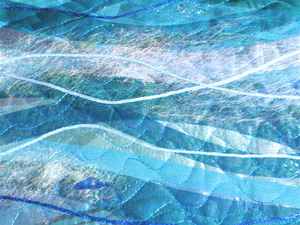 January 3rd is the start date for the Kim Family Auction. I think all the goodies are posted on the blog, So look at all the wonderful things that you can bid on. Hope you will all join in the auction and help a very worthy cause.
Blessings in the new year to all the faithful readers of this blog. Some days, I think I don't want to do this any longer and then I get an awesome comment or a private e-mail from one of you, and it keeps me going.