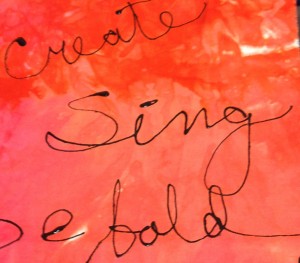 I had a rude awakening this week and realized that I needed to get a project done for The Printed Fabric Bee. So I spent some time in my studio this week. It is cooler now so much easier to work there. I did a little syringe writing with black paint.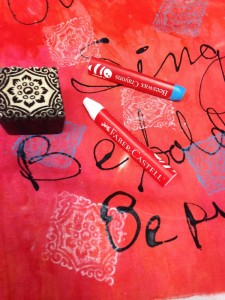 I also used one of my wood block designs to do some beeswax crayon rubbings. I will share more of this project later when it is finished and mailed to the Queen Bee.
It has been one of those crazy weeks. Monday and Tuesday were left brain, excel spread sheets, kind of days doing my membership work for SDA. Wednesday, I worked at Trinity helping to prepare food for the community outreach meal. I love doing this; it combines two of my favorite things, making food and hanging out with great people. Then, I got to spend some time in the studio for a couple of days.
Sidnee Snell, a local textile artist and SAQA member has an exhibit of her work at the Guardino Gallery in the Alberta area of N. Portland. Sidnee manipulates photos to create patterns to create her beautifully stitched pieces, using hand-dyes.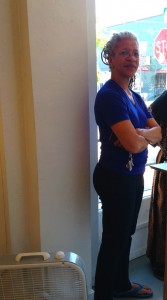 This piece is from a photo of a rusting bridge.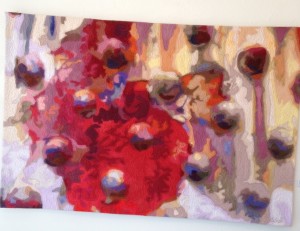 This one is called red laces: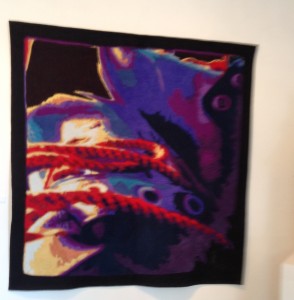 I love the richness of the colors that Sidnee uses and her machine quilting adds a wonderful dimension to the work.
I loved the two pieces she calls sacred seating which are church pews.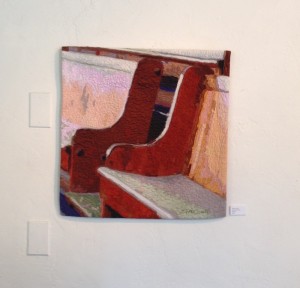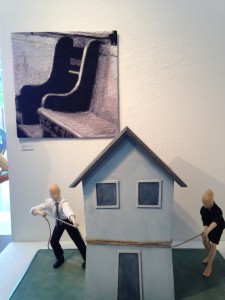 The other artist in the show makes wood sculptures with figures in evocative situations. They were very interesting and well done.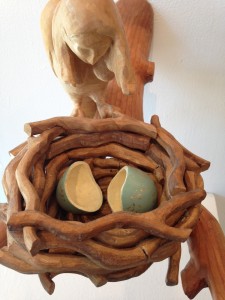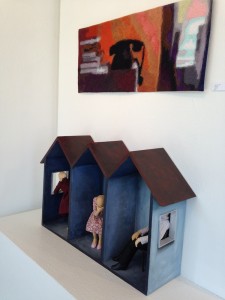 After our gallery trip, we stopped at the mall and I did some binge shopping at Macy's for some things for out upcoming trip to celebrate 50 years of wedded bliss.