Here it is the last day of November, so soon. Where did the month go? For The Printed Fabric Bee this month, Susan Purney Mark was the Queen Bee. She asked for sunflowers. I tried coming up with various sunflower motifs and they all looked like ordinary sunflowers. I decided that what would suit my artistic sensibility would be to deconstruct the sunflower into its essential parts.
I started with printing a leafy background on a pale green hand-dyed cotton. I used a real leaf that looked like a miniature of an actual sunflower leaf.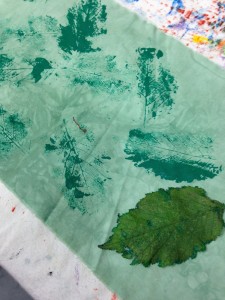 After doing some random leaf prints, I cut a couple of petal shapes from a piece of foam and started printing petals in various shades of yellow and yellow/orange.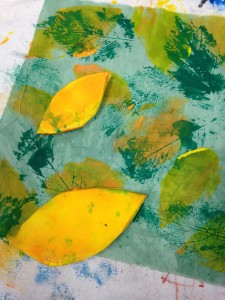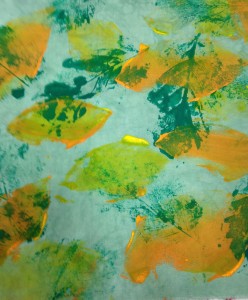 For the sunflower seeds, I used some sequin waste to print random dots of brown.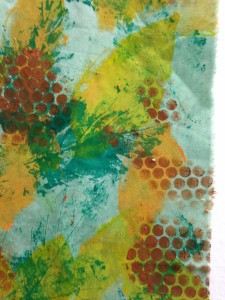 Susan requested that her piece be 6 inches by 24 inches. Here is the piece that will go into the giveaway: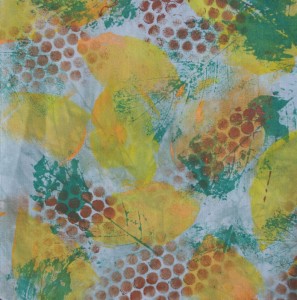 When we get the collage of all the pieces put together and we are ready for the drawing for the fabric collection, I will post it here.
We had a great Thanksgiving at Stephanie's home. She cooked a whole turkey for the first time and it was delicious. I brought cranberry chutney, roasted squash and gluten free pumpkin pie.We enjoyed a walk in the neighborhood between dinner and dessert. Miles is really bonding with Scooter now, but he still is not ready to pick up the poop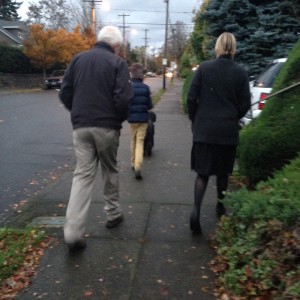 I spent Friday and Saturday getting end of the month SDA work completed. This morning, Steph and I headed to Seattle, where I am right now. This is what greeted me in our hotel room.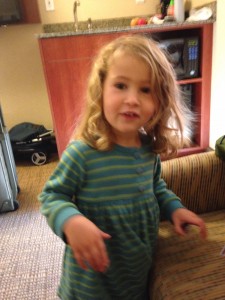 Paige's Mom is having an all day interview at U of W Children's Hospital tomorrow and so Steph and I are going to entertain this little charmer. The weather here is very cold, but with bright sun so it was a nice drive and nice to be out walking around in the University Village area.
Maybe I will check in tomorrow after our day in Seattle with Paige.