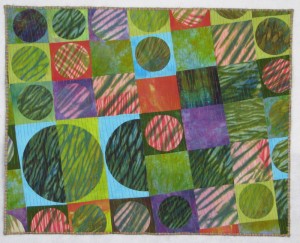 I am so pleased to be part of a special exhibit at Portland International Airport.
Location:  Portland International Airport,  post-security Concourse A
Date:  April  2014 through October 2014
Since it is in an area past security, I suggested to Mr C that we need to go on a trip so that I can get in to see the exhibit!! After I read Mr Earl's essay, I could see how well my Prairie Fields quilt worked with his essay and photos. Here are the other two art quilts in the exhibit.
This is High Desert Colors by Elizabeth Bamberger.
This is 30,000 Feet Above Somewhere by Shirley MacGregor.
On a personal note the bedlam, where we currently live, continues. To add to the chaos, I came down with one of those debilitating crappy viruses and was not much help for several days. We did get most of my studio stuff moved. Steph came over on Thursday with M & M and packed up a lot of stuff and then she came back with Jack on Saturday and did a whole lot more. These shelves used to hold our wine glasses.
So, progress is being made in spite of me!! Yesterday, I spent most of the day in my jammies changing our address online in as many places as I could. It was Steph's birthday and we took her out to a seafood restaurant. She wanted mussels and fries. Here is the cool decor in the restaurant, Block and Tackle.
I think I feel well enough to get back in the thick of things, today. I will check back in a couple of days.