I have been quilting for just about 6 years. I made a commitment at the beginning to always do my own quilting. Every time I sit down at the sewing machine, I am sure I am going to ruin a perfectly good quilt. I think I am getting better. At least I am having more fun!!
Here is the Aspen Reflections piece started in Sue Benner's class at Art Quilt Tahoe: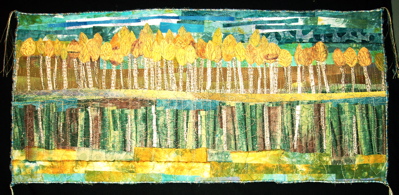 Here is a close-up: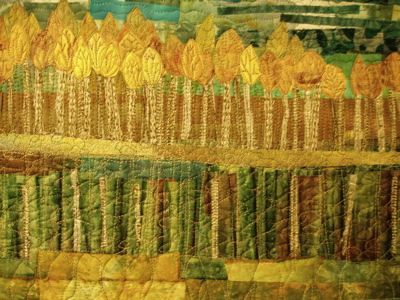 I took these photos tonight so I am not sure how true the colors are.
Update: Some answers to questions. This is 12 inches by 25 inches. It is done by cutting the batting and backing to size. Fuse the backing to the batting. On the batting side, sketch out your basic design with a soft lead pencil. Starting at the top cut and layout strips of fabric that will represent the photo colors and design that you are working from. We saved the trimmed edges of our fused fabric. If it was frayed – all the better. Sue uses selvages, interesting details from fused clothing pieces, etc. I was lucky to have purchased this wonderful African fabric that was batiked and had built in designs that worked perfectly with my landscape.
Tomorrow is my guild's Holiday luncheon and last meeting of the year. I have the new and old board meeting at my house next week and then I am done!! The year has gone by so fast.