As often happens, I have worked so hard on this that I now see all of its flaws! Here is how it came together.
I felted roving and ribbons and bits of chiffon to 12 inch square pieces of prefelt — one was paprika in color and the other was saffron.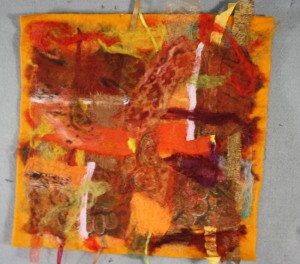 I then cut these into 4 1/2 inch squares.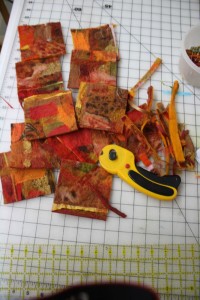 I then felted additional bits and pieces of fabric and roving to the squares. I embellished each with beads and perle cotton. I purchased canvas in a couple of colors which I auditioned as a backing for the squares, but it seemed a bit heavy. I had a piece of reddish organza which I doubled and used. I think it was a good solution.
I really like each of the little squares that I created as stand alone little works of art. So there you have it. It is probably the most expensive piece that I have done for any Twelve by Twelve challenge — hand and machine felting needles, beads, lots of fabric, backing fabric that I did not use!
Tomorrow, I am having a mental health day with some friends. We are going to drive to Tillamook to see an exhibit of work by Cynthia Corbin at the Latimer Quilt and Textile Center. We will probably have ice cream for lunch at the Tillamook Cheese Factory!