First, I have to tell a funny story that the Realtor told us about the couple who are buying our house. She is apparently an interior decorator. Every house that he took them to see, they would look at each other and say, "Beige, too beige." When they walked into our house, they looked at each other and said, "Not beige!"
Last night, Mr. C and I got gussied up and went to the Mardi Gras Ball to benefit The Living Room, our day shelter for homeless and at risk women and children. One of the clients was there and told a powerful and heartwarming story of how The Living Room had helped her and her children get on their feet. She lived for months in shelters with a new baby and two older children. She now has a job and an apartment.
Here is the Tropical Trio hanging out with other art in the silent auction. I am not sure what the final bid was, but the last time I looked, it was $375.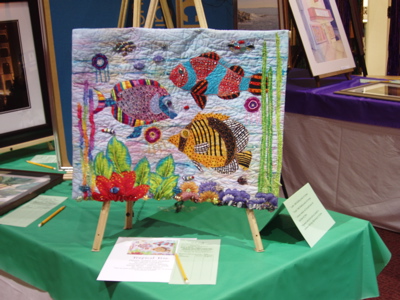 Mr. C and I had a great time dancing to the music of this band, Blue Moon. One of the members is a Doc at Kaiser Permaente.
This is what our Rector, Fr. Matt, does on Saturday night, when he doesn't have to preach a sermon the next day. That is his gorgeous wife, Rose, with him.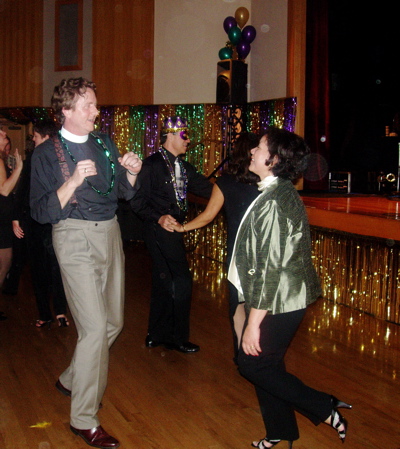 They had a costume contest and those who entered got a pouch. You voted for the best costume by putting money in the pouch. Here is Mr. C with his choice for best costume!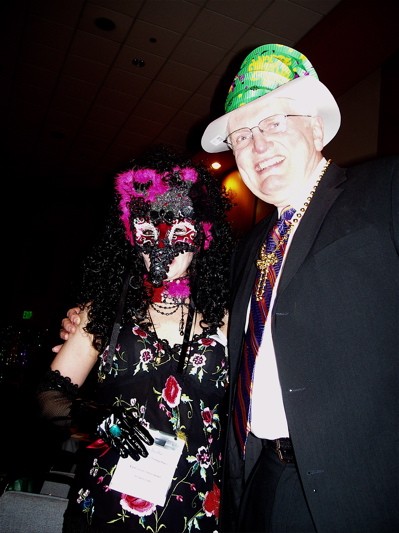 This afternoon, Numina, our center for spirituality and the arts, had an afternoon of Art and Music ?¢'Ǩ'Äù chamber music and wildlife paintings by my other friend named Diane. She travels all over the world, photographing wildlife and then creates these stunning paintings from the photographs.
Here is Diane and some of her paintings: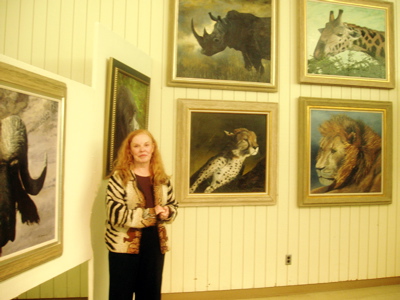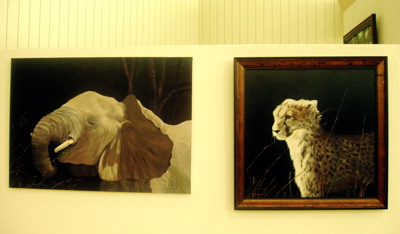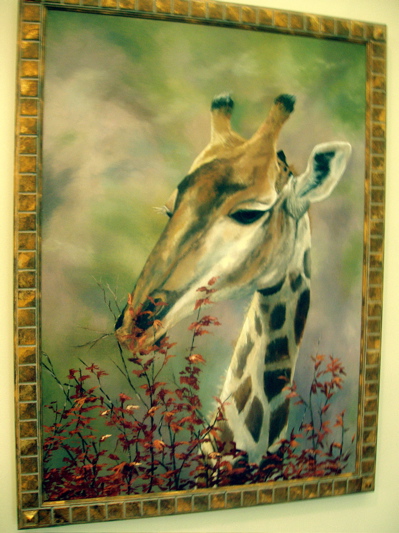 The music was fabulous. Diane usually does the food for the receptions following these events. We decided it would not be appropriate for her to put on her own party so Sharon and Helen, who are on the board pulled together a fabulous feast, and I helped.
Now the last 24 hours is catching up with me. I need to catch up on my beauty sleep. I just want to say, "YEAH! Drew won Dancing with the Stars!"