Brenda Gael Smith, one of our Twelves from Australia, was here in Portland for a quick visit with Terry Grant and I. Terry picked her up at the train station. She had been in Seattle visiting friends. We all met up at a fun restaurant and had dinner. This morning, Terry brought Brenda over to my house. We spent the morning looking at quilts and just talking about the Twelve project. We are going to show the 20×12 quilts here in Portland at Quilt Expo in September.
We then went in search of a food truck pod so that Brenda could have that quintessential Portland experience. After enjoying some Mexican fare, we went off to Powell's book store, another necessary experience. The photo up there of the three of us  was taken there in front of one copy of our book that we found on the shelf. I snapped this photo of myself with the book.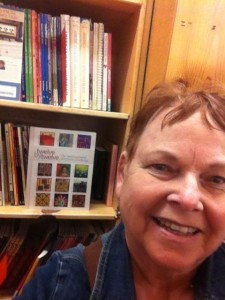 Next, we stopped in at Josephine's Dry Goods, a wonderful, upscale fabric store. No money spent there. Around the corner is The Playful Needle, a great place to pick up embroidery type thread for hand stitching.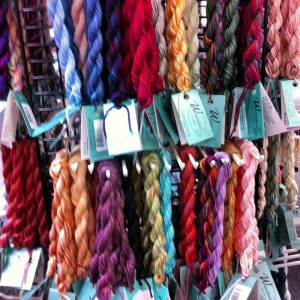 I did spend money here.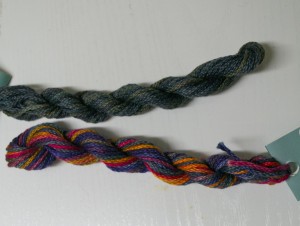 And these that I think will work with my current project.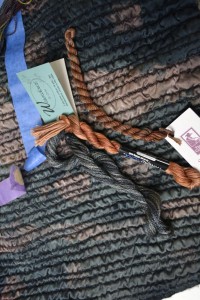 Here is a detail of the stitching I have done so far.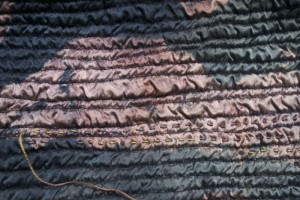 Terry dropped me off at Whole Foods where Mr C met me and she took Brenda to the train station for the next leg of her journey, visiting friends in the Tri=cities area of Washington before she flies home at the end of the week.
It was a lovely day and a nice day away from the computer and my current work load.
Tomorrow, I am heading over to Terry's house for lunch with our friend, Del Thomas, who is passing through town on her way home from a workshop on Whidby Island. She is bringing some new art quilt acquisitions to show us.