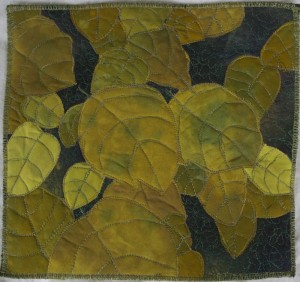 I am happy to say that despite my aches and pains this past week, I have made progress on many fronts. I finished my value assignment for the master class a couple of days early – woo hoo! I think it is a very successful piece with value doing a lot of the work and nice negative space in the dark areas.
I also finished my print for this month's Printed Fabric Bee challenge. I will reveal that in a few days. I used the left over paint on a piece of silk and splattered it with purple.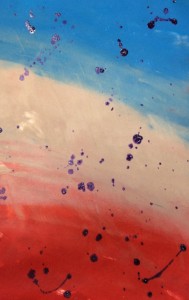 The drawing class is over and we are on to reduction printing. It is really challenging to think ahead and do the carving in the order you need to get the colors and patterns in the order that you want. Her you can see my sketch and my initial carving. I am going to use the back side to make a rectangle of one base color.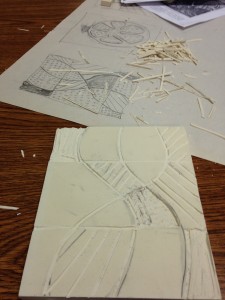 I found it very meditative to carve my block.
Fifteen yards of silk charmeuse and lots of Dynaflow paint arrived from Dharma Trading yesterday. I have spent time at the studio for a couple of days and finally have the fabric organized and put away. I am almost ready to set up for painting the silk. I am excited to get started.
On the pain front, I finally figured out the the knee pain is related to the trapped nerve in my butt for which I saw a physical therapist a while back. I stopped doing the exercises because I was no longer having pain. I have started doing them again and it is helping.
All in all, I am a happy camper for now.