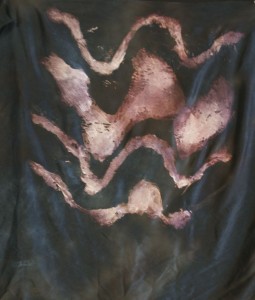 I used a torn newspaper as a resist today to do some discharging on this piece of black silk. This is before I washed out the discharge paste and this is after.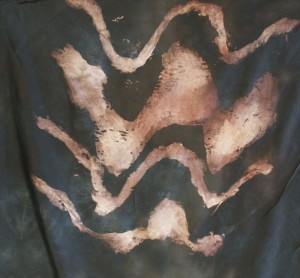 I was hoping to get some undulating organic shapes. My plan with this is to layer it over black wool prefelt, do some stitching and then throw it in the wash to shrink it. My Twelve buddy, Karen Rips, does a lot of this kind of work and I have been enamored with it. I have  not taken a class or seen a tutorial – I am just experimenting on this. Hopefully, I will have time to do some stitching tomorrow.
Today, I took some time to go get my hair cut. I went to a new place and got it really chopped off. Not sure if I like it or not, but the great thing about hair is that it grows back fairly fast. I also got the nice news that one of my Aspen quilts was juried into Sacred Threads.
I am so proud of my granddaughter, Mia. She and her friend, Devin  created this book of illustrated quotes from the videos at itgetsbetter.org. They are for sale at sunnysideitgetsbetter.bigcartel.com. All proceeds benefit itgetsbetter.org!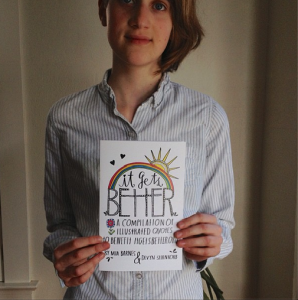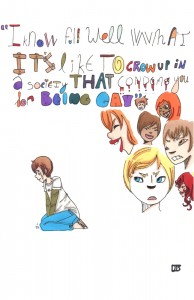 On another note, it is nest watch time. I love watching the Great Blue Heron nest at Sapsucker Woods on the Cornell Campus. Here is a screen shot I took a couple of days ago. Today, there are 3 eggs.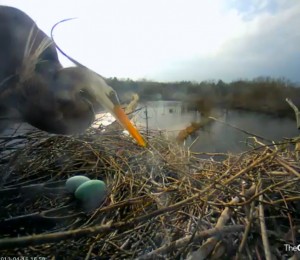 I didn't sleep well last night. I happened to discover the craziness going on in the Boston area and watched too much of it and never really fell soundly asleep. I am so happy that tonight, the other perpetrator was captured alive. I hope that we can get some answers as to why they did this horrific act.
Tomorrow, I am meeting one of my blog readers for lunch. She is from Seattle and is down for orientation at Oregon College of Arts & Crafts where she is going to start studies.  Tomorrow night, Mr C and I will be off to the symphony. Next week is looking great, sun wise. Maybe I will get my garden planted.