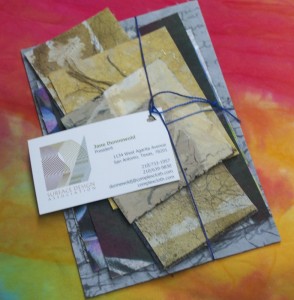 My three days with Jane Dunnewold were fantastic. She left this little bundle of luscious complex cloth bits as a thank you.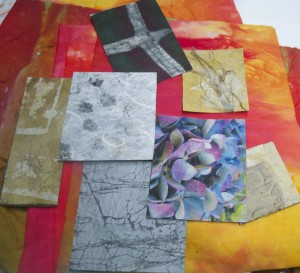 On Wednesday, she gave a lecture to my guild on Making and Meaning. Jane is such a thoughtful and caring person as well as being an artist. I think she touched many people with her admonition to keep making, stay centered and find joy in your work. On Wednesday night, we had an SDA dinner out with Marci Rae McDade, the SDA journal editor and Amanda Melbostad, our area rep.
On Thursday and Friday, 20 of us had a workshop with Jane on Making Art, Strategies for Transformation. We alternated between arty exercises and writing exercises.  It was very intense and emotional for many of the participants. Tears were shed and secrets revealed as we shared our artistic journey and quests.
On Thursday, we dumped funky supplies on a big table to share. Our task was to create a container for our artist. I grabbed these supplies to start.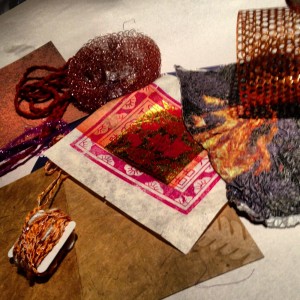 The copper scouring pad became the basis for my container. I began by collaging the insides with bits of ephemera abd adding sparkly purple yarn. Then, we stopped for lunch. I came back to the table and felt uncomfortable with my container. I needed it to be more comfortable and organized.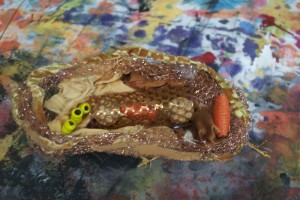 I lined it with soothing fabric and made little parts out of beads and sequin waste.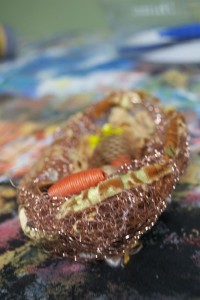 Here are some of the other containers: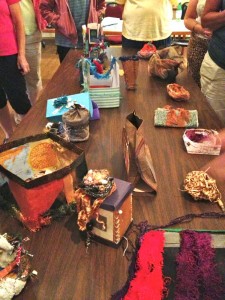 It became very clear, as we discussed our containers that they revealed a lot about our selves. I realized that my chaotic container did not work because of the decisions Mr C and I are currently making about changing our living arrangement and I needed an orderly container to put my mind at rest.
On Friday, we did more writing about our work: history, process, content, things we love to do, things we are good at, if we were to be the optimum artist that exists in our mind, what would our work look like.
We also took some time to make marks with india ink and brushed on paper. It was amazing to look around the room and see the difference in the personal marks.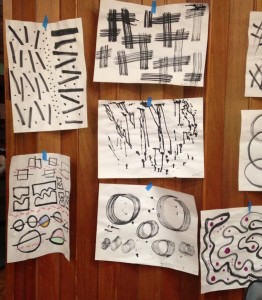 As I said earlier, it was emotional and tears were shed as we faced our fears.
I took Jane to Ann Johnston's home for her last night. I had fun seeing her gorgeous studio and newest work which will debut at the Baylor University Art Center in October. You can visit her site and order her new dvd, Color by Accident.
Today, I spent most of the day reformatting and updating my artist statement and resume for High Fiber Diet. It is supposed to be only 2 pages, but I am well over that. Some things will have to go, I guess.