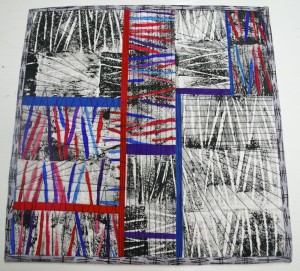 The annual benefit auction for Studio Art Quilt Associates has been going on for a couple of weeks. I have been remiss for not blogging about it. I acquired this wonderful piece by Sherri McCauley during the first week. I  really love it. It has some wonderful surface design and the quilting is very creative. I also love the touch of color to enhance, but not overwhelm the design. Sherri lives in Texas and I was not familiar with her or her work, but I am so happy that I snagged this piece. Here is the back. You can see how creatively she quilted this. She has a very nice label, but I blurred her personal information.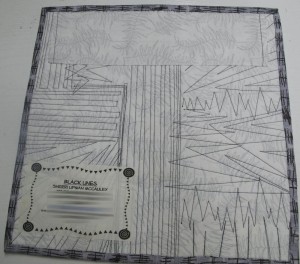 My piece is going on the auction block tomorrow in the final group. You can find it in group 3a. I am a bit nervous because this is a departure from the work I have donated in the past. I have been honored to have my work purchased early in the bidding cycle. Here is my piece, which is one of my discharged silk and shrunk pieces. All of the pieces are 12 inches square.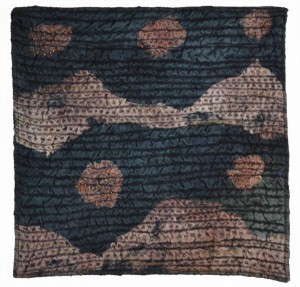 Four other members of the 12 x 12 group have quilts in this group, you can see them all in a lovely blog post by Deborah on the Twelve blog.
My whirlwind of activity over the past month is winding down. I need and want to get some studio work done. Yesterday, I picked up the 20×12 quilts and 4 of my quilts in the High Fiber Diet Show from Quilt Expo. I did a little shopping the day before. I bought some pre-wound bobbins and titanium needles from Superior threads and this lovely handdyed fabric from my friend Maureen Schmidt from Santa Rosa, where we used to live.
The first bundle is titled Truffle.
This set is Eucalyptus – so gorgeous.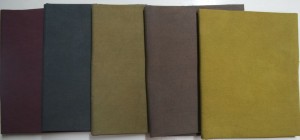 Fall arrived today and so did our fall weather. It rainy, cold and windy. I had to pull our warm clothes and wear socks – ugh! Lisa is flying into Portland tomorrow to spend a week with us. I am looking forward to spending some quality time with her.