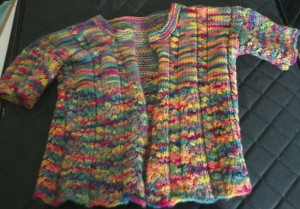 My life has changed so much over the past few months. I no longer have a daily studio practice that I can blog about. My studio is too hot to spend time there right now. I also have taken on an extra job with Surface Design Association which requires a minimum of 15 hours a week on my computer. I really like the job and feel that I am helping to get our online database in good order. I know I can fit in some quality studio time when the weather gets cooler.
Tomorrow, we are heading down to San Francisco to spend some time with the adorable Paige and her Mom and Dad. Remember that sweater that I started oh so long ago. It took a back seat in my life when we were going through the downsizing and moving. I decided to finish it and take it with me. It has short sleeves so that is why it looks a little odd.  It is all done and washed and blocked and just needs a couple of buttons. My button supply is at the studio so I will stop in the morning and grab a couple and get it finished before we get there on Thursday.
I am excited to go to the American Craft Council show at Fort Mason on Saturday with Lisa and Clay. I hope to have lots of cool photos to show.
Last week, I went down to a church in Albany, Or to talk to 3 lovely ladies about doing a commission for them. Here is the wall where the quilt would go.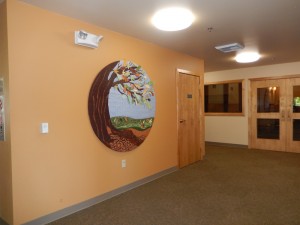 The round fiber art piece seems to be a glued collage. It has no stitching. The wall will stay that brownish color. You can see from the sanctuary that this neutral color scheme it their vibe.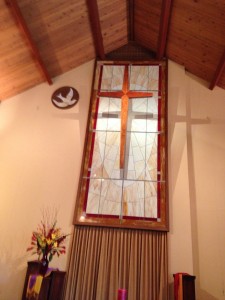 I usually work with a more primary color scheme for my liturgical work so I was thinking, this is going to be a problem. I talked to them about what vision they have. They talked about something with rounded edges and sculptural or 3-D. Oh, oh – that would not be my thing at all. As I talked to them, I realized that what they wanted was something that did not have straight edges and had movement – I could do that. We talked about the mission of the church which is encapsulated in 3 words: Spirituality, Community and Justice. We talked about incorporating those ideas into the work, with symbols or scripture.
I was still worrying about colors when we went on a tour of the facilities and I saw this vestment hanging: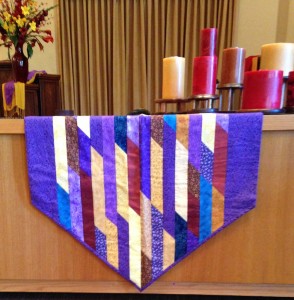 I knew I had found the color palette that would work. So, next, I will dye some color samples – I want to do this in silk and do some sketches and go back to meet with them in a couple of months.
So, that is what I have been up to.
I promise to check in from the City by the Bay!!