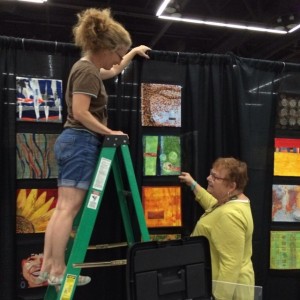 This was a happy week here in Portlandia. My art quilt daughter, Kristin La Flamme, was in town and stayed with us for a few days and it was the debut of Quilt Knit Stitch in Portland. It is the latest Quilts, Inc show which included more than quilts — knitting, crocheting, fashion shows, etc. It really was a good show, but the attendance was not what was expected. The quilts part of it was much smaller than you see at Houston and there were some exhibits just for this show. One was with a theme of roses since this is the City of Roses. The show will be back next year and I hope it gets more publicity going and the attendance improves.
On Tuesday, I had volunteered to help set up the SAQA exhibit and Kristin came along to help. You can see us hanging a sampling of this year's auction quilts that were on display. SAQA had two of their special exhibits there: Metaphors of Aging and Text Messages. Many people who had not seen art quilts like this before and they were quite taken with the stories that accompanied them.
On Thursday, we had STASH at Gale's house and we helped Reva get started tying her huge t-shirt quilt. Here we are, stitching away. It was meditative, but hard on the back.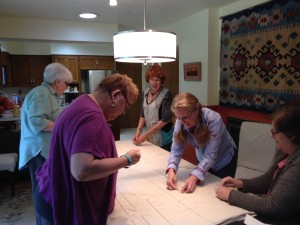 On Friday, we were off to QKS. Kristin was doing docenting in the SAQA exhibits and I was  intermittently schmoozing at the SAQA table, checking out exhibits and shopping in the vendor area.
It was fun to see our fellow Twelve by 12 member, Terri Stegmiller, who was visiting her aunt who lives here. We were able to get a selfie.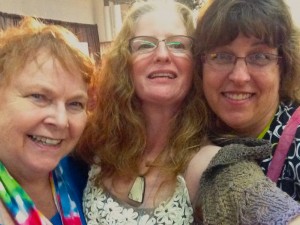 I bought some dye-painted tencil yarn to knit a shrug for myself. I saw it hanging in my friend, Teresa Ruch's booth and I had to make one too.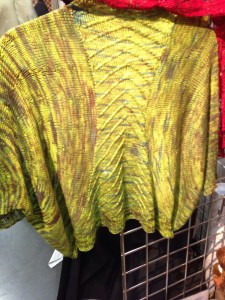 Here is the yarn that I bought.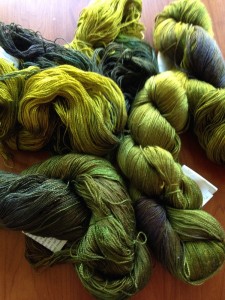 I also bought a set of celtic style alphabet woodblocks. I am going to use these in my next Printed Fabric Bee project.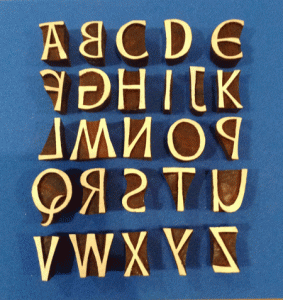 It was fun to stop by Marcia Derse's booth and look at her fabrics. She does printing and discharging on hand-dyed fabrics and then they are commercially printed. I don't buy her fabric because I like to print my own, but I love to look at what she has done.She has wonderful colors and designs. She just moved from Ohio to Whidby Island and says that she loves it here in the North West.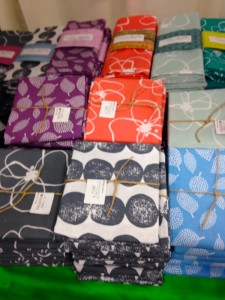 On Saturday, we jumped on the street car again and went back to the show to hear Marci Rae McDade, SDA Journal editor, talk about the exhibit she curated at the Hap Gallery, which includes one of Kristin's Army Aprons. This is a synopsis of the show.
Hap Gallery is pleased to present Fail-Safe: Discomforts Close to Home, a group exhibition of contemporary textile and fiber-based artists curated by Marci Rae McDade. The show features a range of art forms made with seemingly safe and comforting materials from everyday life that are loaded with incendiary content. Each object reflects an aspect of anxiety, discontent, and longing in the 21st century, from poverty and racism to mortality and digital disconnect. These potent works compel viewers to take stock of the world today as we collectively contemplate our futures.
On Saturday night, Marci hosted a reception at the gallery so Mr C, Kristin and I went down on the street car. I really enjoyed seeing the show. Such a variety of work. I got a couple of photos. This is of Marci and Kristin, with her apron on a manikin in the back. It is knitted from undershirts that her husband wore during his deployments. You can see a better photo of this and more of her work in the Army Wife series, here.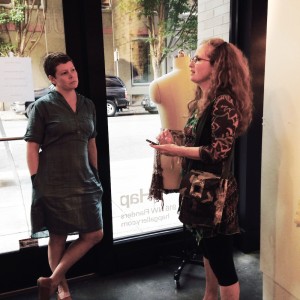 I loved this piece that was thread painted and the pieces were hung to give a 3-D effect.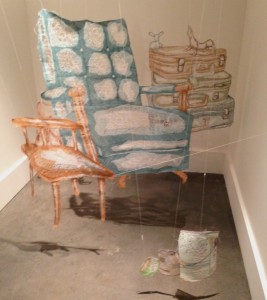 I also love an exhibit of miniature clothes hand sewn from clothing of deceased people. They are done as a memorial for loved ones to keep. They were exquisitely done.
And so that is what I have been up to. Kristin left at 3 am this morning and now it is quiet around here and I am trying to catch my breath before the next big event in my life.