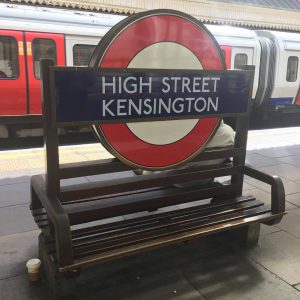 Our hotel in London was in the Kensington area with a short walk to the Underground Station. We met out guide and several other members of our Trinity group in the lobby after breakfast and made our way to the station. It was recommended that we buy an Oyster Card which is a weekly pass for using transit in London. We got a tutorial on what trains go where and how to use the underground and headed for St. Paul's Cathedral which is in the main London area, near the Thames.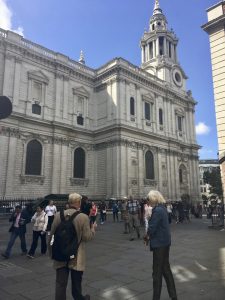 We then went off in separate directions. Mr C and I had decided to head over the Millenium Bridge to the Tate Modern. The Millenium Bridge is a modern pedestrian bridge across the Thames. It is directly across from St. Paul's, where the choir was to be artists in residence for the next week. Here is a collage of views of and from the bridge. (Click to see larger images.)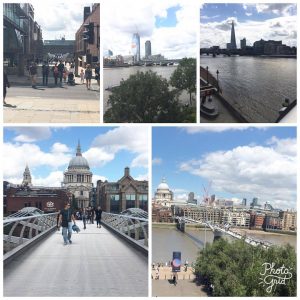 While walking across, we discovered a guy making a tiny painting on the bridge. Then we found several of these paintings scattered on the bridge surface. Apparently, he makes a background from gum and then paints it.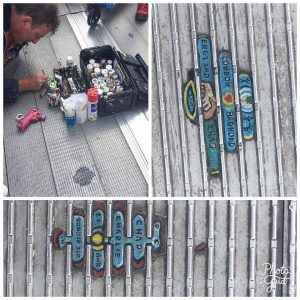 At the Tate, we bought tickets for a  special exhibit of Giacometti sculptures. No photos were allowed. The exhibit was extensive and we really enjoyed it.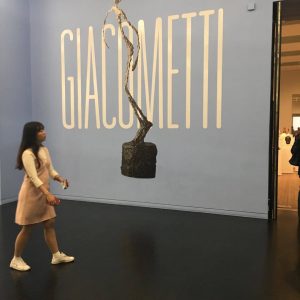 We went to the top floor to have lunch. There were big windows with a view across the river. The dome is St. Pauls.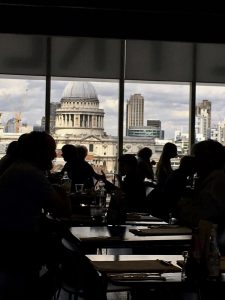 I also took this panoramic shot from the outside deck. I really love the mixture of very avant garde modern architecture, mixed with the traditional and more ancient architecture. Be sure to click on this link for the impact of this photo.
After lunch we visited the free galleries to see more art.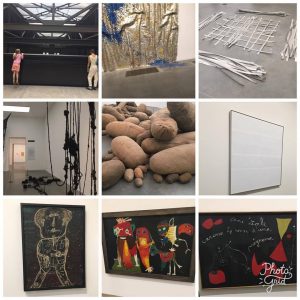 I photographed these images because they look like interesting layouts for some quilts.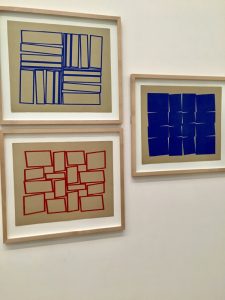 We hung around the area and did some people watching before going back across the bridge to St. Paul's for the first Evensong sung by the choir. Then back on the underground to the hotel for some dinner.
As I may have mentioned in an earlier blog post, I have been plagued with backaches since my knee replacement surgery. I was very concerned about my ability to keep up with everyone on this trip. I did quite well. I often had to stop and rest. My pain always subsides when I sit for a bit. We had pretty great weather for most of the trip.
I was amazed when I checked my activity level for the day: