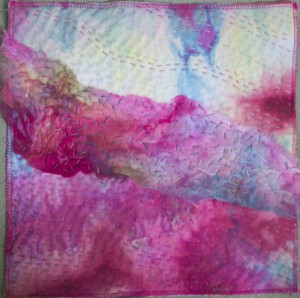 It is the third week of the annual SAQA  auction of 12 X 12 quilts. The funds raised help support SAQA exhibitions, publications and education. This is my donation this year. it is created from my snow dyed fabric – cotton and cheese cloth with lots of hand stitching. I named it Sky Blue Pink.
Bidding starts at 2 pm eastern time today. There are many beautiful pieces by some luminaries in the art quilt world. Here is a link to take a look at them: 2014 SAQA Auction. The price is $750 today and goes down each day until Saturday, when you can pick up one for $75. I have always been fortunate to have mine purchased early in the bidding. But every year, I worry that mine will sit there until the end.
Hope you will go take a look and consider making a bid. I purchased this piece by Viviana Lombrozo in the first week of the auction. I can't wait to receive it and check it out in person.