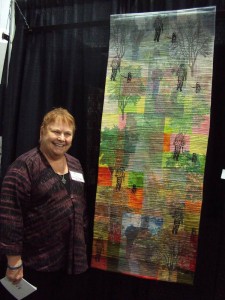 Well, I am not that weary, but fortunately, I recovered from my sinus infection and taking care of M & M so that I could keep up with my busy schedule this past week. On Tuesday, I went out to the Expo Center to help hang the SAQA Oregon Show, Exploring Layers. On Wednesday, I was busy, busy doing my left brain SDA work. On Thursday, I went back out to the opening of NW Quilt Expo. I spent a couple of hours at the Columbia FiberArts Guild table, showing some member's work and promoting the guild. Then, I gave a docent talk for the SAQA show. That is me with my quilt, Walking With Scooter and Mr. C. That quilt has really been getting around.
On Friday, I finally got to my studio to start some clean up and to work on my latest Printed Fabric Bee piece. The queen this month is Leslie Jennison who has asked for Urban Surfaces -think about layered textures of old walls, peeling paint, graffiti, etc., on building walls. I was trying to decide what piece of fabric to use as my base for printing and had an epiphany as I was falling asleep or waking up. (Always get my best ideas, then.) I had done some shibori folds on some cotton scarves that I bought from Darma. They looked horrible – what was I thinking horrible. Here is one of them, dampened and ready to be tortured some more. I will only say that my first step was to paint over the whole thing with diluted black Jacquard DynaFlow paint. I will show the final result in a few days.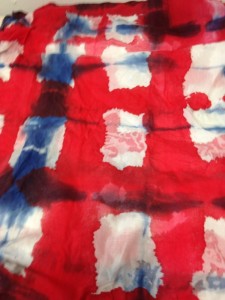 Intermission: Time to stop, make dinner and go to the symphony.
Nadja Salerno-Sonnenberg played a violin concerto by Shostakovich. Fantastic concert.
And, I am back!
While at the quilt show, I found my favorite booth with hand-dyes from Maureen Schmidt – a friend from Sonoma County. I bought two packs of neutrals – one, warm and one, cool. High Fiber Diet has neutral as the theme for next year.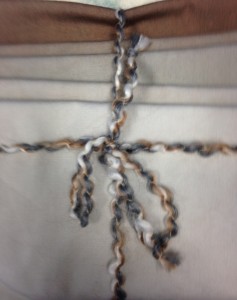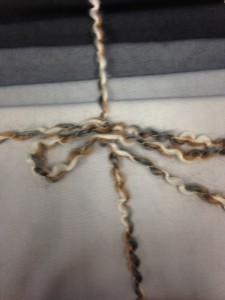 And I also found some Radiance (cotton/silk blend) in colors that will be perfect for the commission I am working on.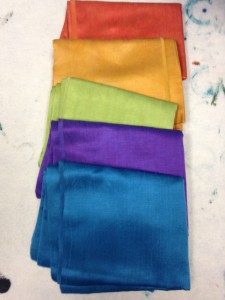 This is the gorgeous nuno felted backdrop that my friend, Maris Cavanaugh, made for the guild fashion show.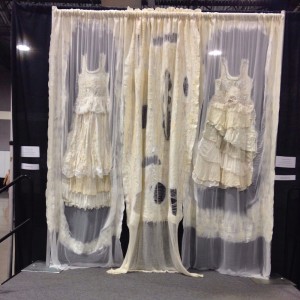 Last, but not least, I finally got to use my new studio tool – an Oliso Smart Iron.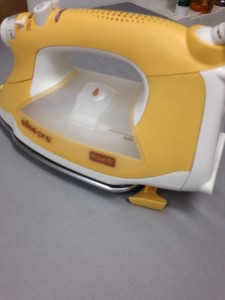 When it is plugged in, it pops up on it's legs. When you hold it to iron, the legs disappear, but as soon as you let go of it, up it pops. It has a long cord and it goes off after 30 minutes when not in use, unlike most irons, which last for only 7 -8 minutes. I love its bright sunny color.