That was 2014 for me.
January: We finished purging and cleaning the big house in Eastmoreland. This is what my studio looked like, ready for the looky loos. Gosh, how I miss that space! We sold our house very quickly and then had the angst of not finding a new place to buy.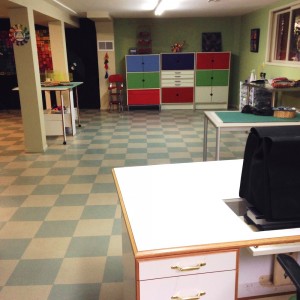 February: I finished this quilt for Paige, using Lisa's line of fabrics.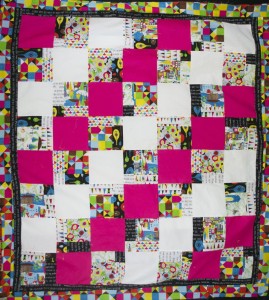 I also tried my hand at snow dyeing and got some great and serendipitous results.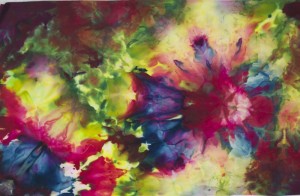 March: This was a month of good news, family celebration and hard work. Prairie Fields was installed at the Portland Airport in a special exhibit for six months.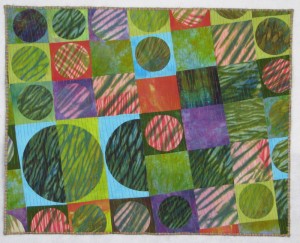 We found The Congdo, where we now reside. We packed up all of our worldly goods and I had lots of aches and pains.
We traveled to California for Paige's second birthday and I gave her the quilt that I made.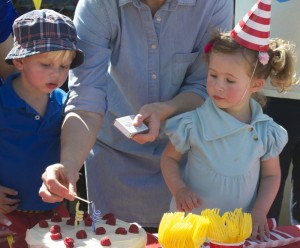 April: I spent most of this month getting The Congdo organized and settling into my new studio.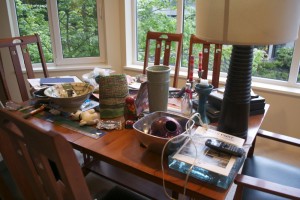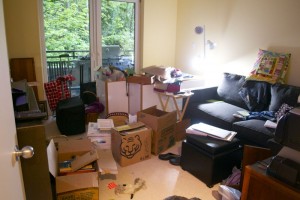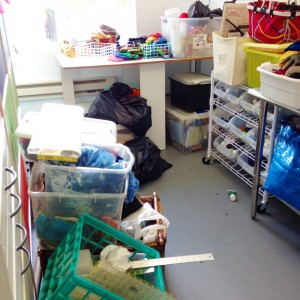 The Congdo now looks great, but my little studio still looks a lot like the above photo.
May: I took a fantastic dyeing class with Judy Robertson down in Eugene. I came home with lots of great fabric.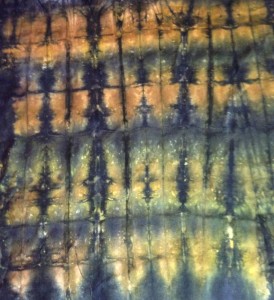 I made this piece for the annual SAQA auction. It sold, but not as early as other pieces I have done in the past.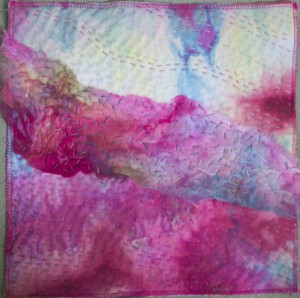 The Congdo began to take shape.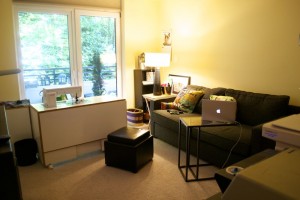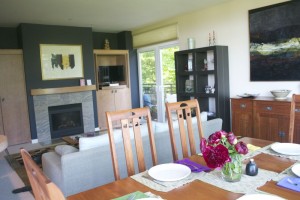 June: I took on a new job with SDA which has been time consuming. Another change.
We discovered that we could walk to the gorgeous Portland Rose Gardens. We enjoyed many walks through the rose gardens.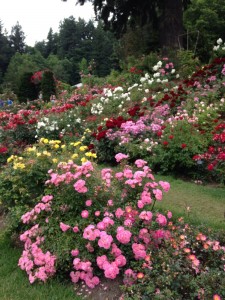 I decided to do something really different for the High Fiber Diet show, What's Blue to You.  I created this enormous Blue Picasso Woman.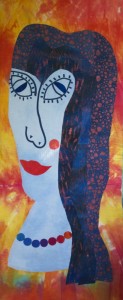 We traveled to Seattle to see the Sacred Threads Show.
July: We enjoyed weekly trips to the Portland Farmer's Market on the streetcar.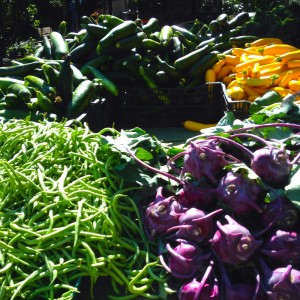 Lisa and Clay came for a few days over the fourth of July and we had a family gathering here.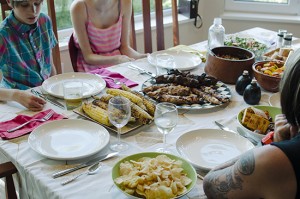 I took Mia and her Mom to Seattle on the train as a graduation present for Mia. We had a great time. I finished another quilt for the blue show.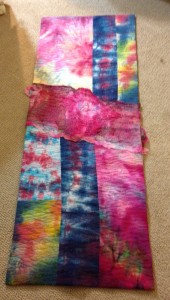 August: We made another trip to San Francisco to hang out with the CA peeps.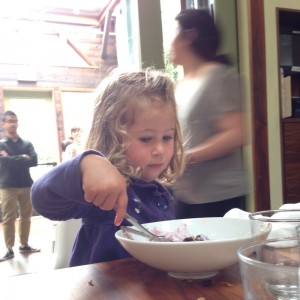 Lisa's new book, Art Inc. came out and I was honored to find this dedication.
My art quilt daughter, Kristin LaFlamme came to town for an exhibit she was in and to attend the Quilt, Knit, Stitch show. Here we are, helping to set up the SAQA booth.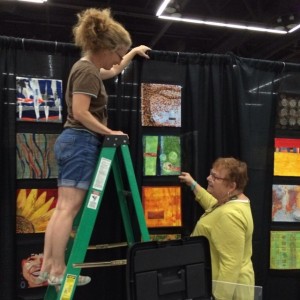 September:  We traveled to California again, to celebrate our 50th wedding anniversary with the family. It was loads of fun for me to have everyone together.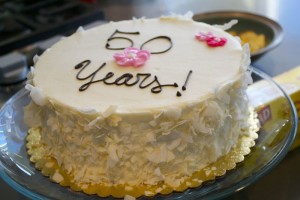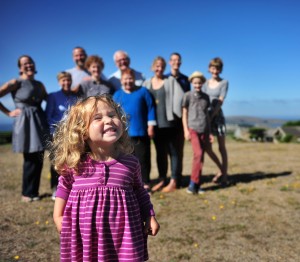 Our friend, Heidi Rose, made this macaron tower for out celebration at Trinity.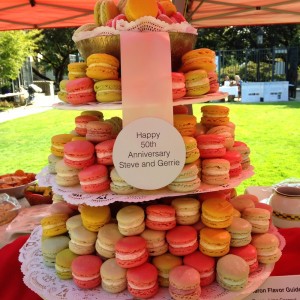 Then, Rayna came to town to teach for my guild. Had so much fun with her and got some nice fabrics from her workshop.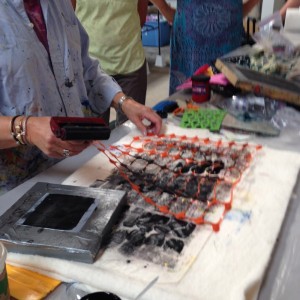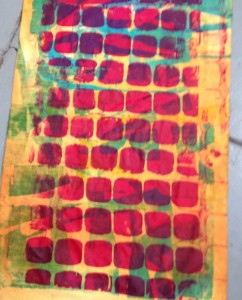 Found out that Kelp Dance sold while at the American Art Company exhibit in Tacoma.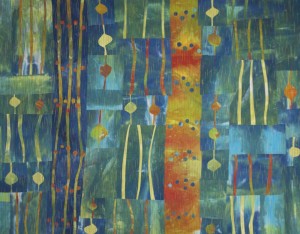 October: I became another year older. I worked on rehabilitating the leaf quilt.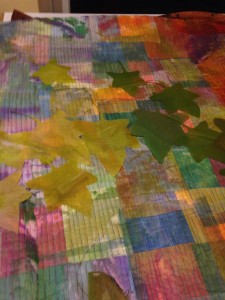 Lisa and Clay came to Portland for some talks that Lisa was giving during Portland Design Week.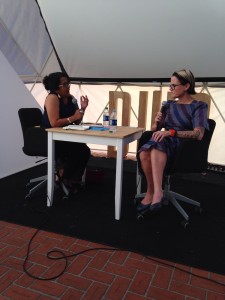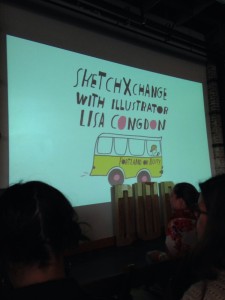 November: I started work on a couple of kid quilts which I hoped to have finished by Christmas. Didn't happen.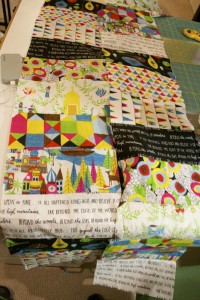 Stephanie hosted Thanksgiving dinner. Big change for me there.
December: Steph and I drove to Seattle to take care of Paige while Jayme had an interview at Children's Hospital for her residency. We had a great time and she kept us on our toes.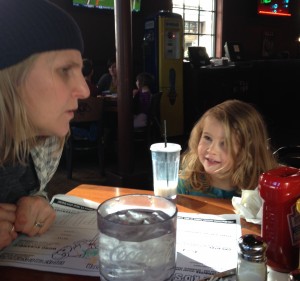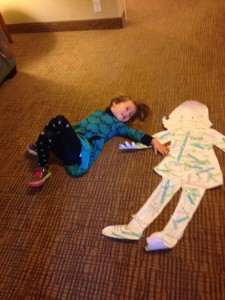 I was excited to be part of the What's Blue to You exhibit installed at the Portland airport. It will be there for 6 months.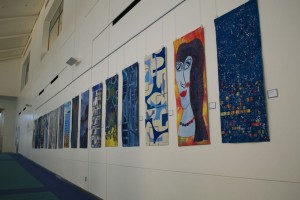 We did minimalist Christmas decorations in The Congdo. Another change. It was fun to see many of my ornaments hanging on Paige's tree. We traveled there on Christmas day and arrived home today.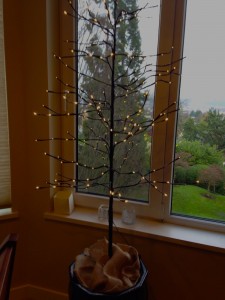 I will post some pictures from the California trip tomorrow.
As I have reviewed my year, I realize that I have not been very productive. I am grateful for the participation in The Printed Fabric Bee. I did something every month and it was fun and challenging. I also noticed that my blogging waned as my creativity waned. I plan to do something about that. I am going to try to blog something every day.
I have a solo show coming up in May so I have to get cracking on those pieces. I need to work on getting my studio better organized.
Stay tuned, as I try to rediscover my inner artist.
Happy New Year to all of you. Wishing you creativity in the new year.