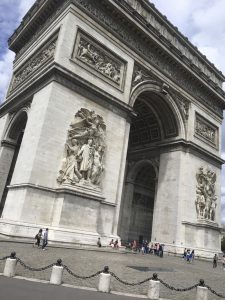 I know I have been missing from this blog for a loooong time. I lost interest. I got wrapped up in political stuff. I was spending my energy on Instagram and Facebook. I love reading other people's blogs and realized that I should get back at it so here I am. I am currently very jet-lagged as Mr C and I just returned from 12 days in Paris and London. We accompanied the Trinity Cathedral Choir. They were invited to sing at Notre Dame Cathedral and the American Cathedral (Episcopal) in Paris. That is where we started our journey on Friday, July 28th.
I had not been to Paris in a long time so it was pretty exciting when our bus from the airport drove by the Arc de Triomphe. We got settled in our room and slept a bit because who can sleep on a plane?? Then we took a walk to the Eiffel Tower which was in the neighborhood of our hotel.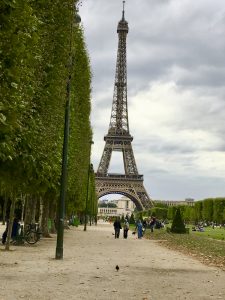 We found a nice restaurant near our hotel and had an early dinner. We were the only ones in the restaurant for most of our meal. We only had one day to do something fun in Paris. My choice was to go to Le Marais to the Picasso Museum. We got a ticket for the metro and off we went. When we got to our stop, Mr C went to one door and I went to another. He is out on the platform and my door is not opening and suddenly the train is taking off. I lost it! I was abandoned. A lovely family (Dad, Mom and 10 year old daughter) came to my rescue. They are French but live in Pittsburgh. They got off at the next stop with me and hatched a plan. She would wait for the next train to come and watch for Mr C. He insisted on escorting me back to the previous stop. She would call him if Mr C arrived before we got on the other train. As luck would have it, both trains arrived at the same time. She contacted us before we got on the train and Mr C and I were reunited. As scary as this was at the time, I loved what happened. This family was so kind and so generous with their time. I will never forget them. I learned that you need to push a little green button to get off the metro in Paris.
We finally arrived in Le Marais. I loved this section of Paris. I could spend days there. We found the museum with a little help from random people on the street.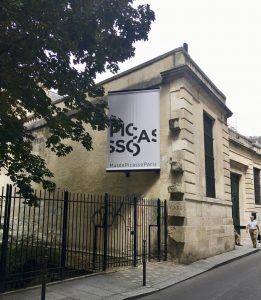 We thoroughly enjoyed a couple of hours here. There was a special exhibit of his work that involved all the women in his life. But, I enjoyed the permanent exhibit of his work.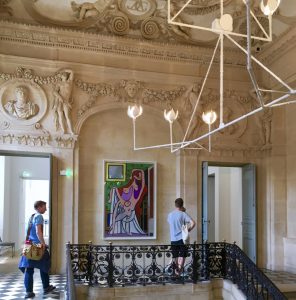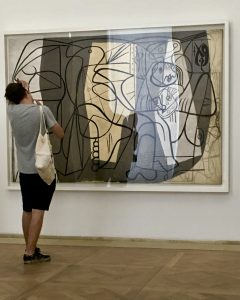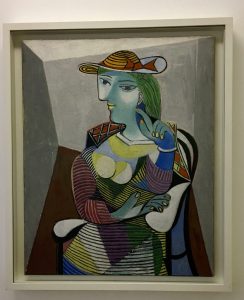 At one time, he was into multi-media collages and so was kind of a fiber artist!!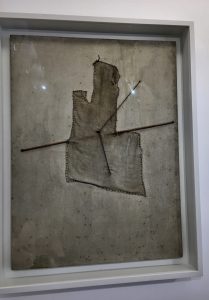 (This piece has a reflection from glass.)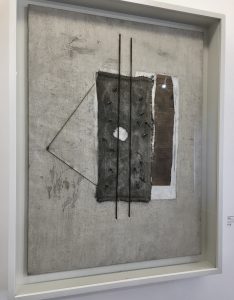 That evening, the choir sang mass at the Notre Dame cathedral. When we got there we were amazed to find a long line of folks waiting to get in for the service.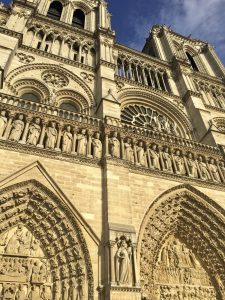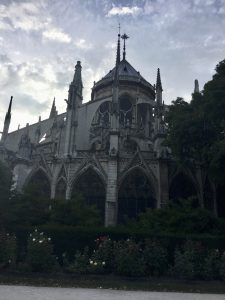 After the service, we enjoyed a wonderful meal with friends from Trinity. One of the couples has a second home in France where they spend several months of the year. It was good to see them. She had made a reservation at a wonderful restaurant. We had a private room and closed the place down. We decided to take a taxi back to the hotel.
The next day, a bus was supposed to pick us up and take us and our luggage to the American Cathedral, but, oops!, it never showed up. People started calling Ubers and taxis and somehow we all got to the cathedral before the morning service.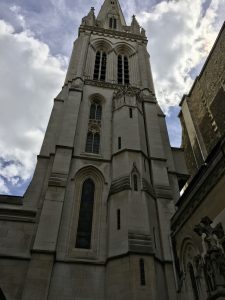 After church we had lunch nearby and then a bus picked us up and took us to the train station where we boarded the Eurostar which would take us through the chunnel to London. Another oops, as 14 people got left behind. The Eurostar waits for no one! The next train was a half hour later. They got to go first class and were served dinner and wine.
I will continue with our awesome London adventures tomorrow.