I am trying to manage my life – my job, my art and my household duties. I spent time doing SDA work this morning and then went to the dentist to get my new night guard fitted. I got a quick trip in to Millends where I bought batting and hot pink cotton for the kid quilts. I have been cutting green sashing strips for one of them. Back at home, I walked Scooter, packed up the Christmas decor and then spent the afternoon working on SDA stuff. I am so excited because we have gone over our needed amount of money needed to keep going.
Tonight, I met a friend at Trinity where we made a proposal to the arts committee for a special exhibit next year. More about that later. We are still waiting for our proposal to make its way through channels.
I hoped to spend some time on this knitting project I am doing for my daughter in law, Clay. She saw the pattern at Dharma Trading and liked it and picked out some yarn. It is a fun pattern.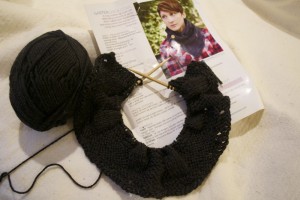 Tomorrow night, I am starting a 6 week drawing class at Trinity. One of our fine artists is teaching the classical method of drawing. We will be using charcoal. It is a multi-generational class so I am not going to be intimidated! I am looking forward to it.