I spent 3 days last week in a workshop with Cynthia Corbin – best 3 day workshop I have taken in ever so long. I am overflowing with ideas and ways to get myself out of creative funks. She is such a great teacher and wonderful human being.
The title of the workshop was Structure and Variations: Black Fabric Sketch. We cut a rectangle of black fabric and using a rotary cutter, cut shapes. We could do curves or straight cuts. I chose straight cuts for my first piece.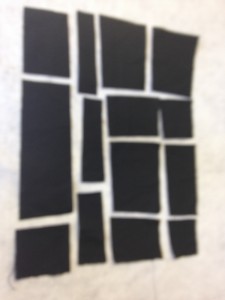 We then chose fabrics for each piece and used the black fabric as a template. We could machine piece or fuse our pieces. Well, you know what I chose! The first photo is my first composition. This is such a cool way of using my hand-dyed and printed fabrics. Here is my second composition.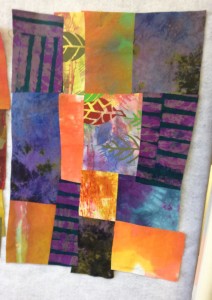 On the second day, we did another black fabric sketch and it was suggested that we do curves if we had done straight lines the first day. I decided to see how this would work for doing a landscape.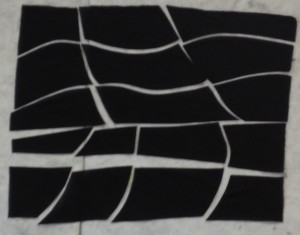 And here is my landscape collage of the California golden hills.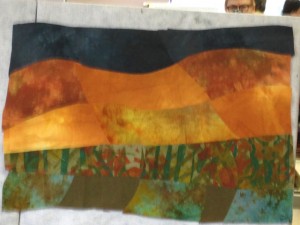 On Saturday, she showed us how to use fabric sketches to make text. I just love this. I chose the word tree as I want to do a piece about trees for the SAQA show that is not a literal piece. Here are my letters. I think I will add an s and line them up vertically with a collage of other fabrics.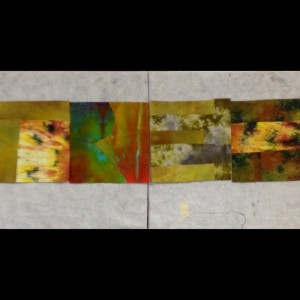 I came home with 3 finished pieces ready to quilt and a great start on another piece. I am one happy artist.
Yesterday, after church, I ran over to Fabric Depot's big sale to look for some fabric options for my EB Master Class March piece. We are doing lines. Here are my sketches.
She encouraged me to do the top one and PIECE it. Yikes. I want to do it in neutrals so that I can use it for the High Fiber Diet neutral show. Here are my mock ups. Still not sure which one to use.