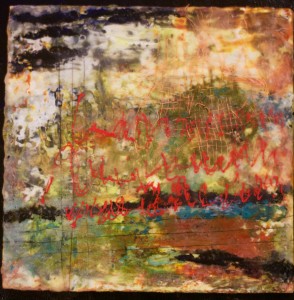 Are you tired of seeing this piece? Here is the final incarnation of what I was calling a hot mess. When I came into the classroom this morning, my first goal was to work on the pieces I had started and figure out how to finish them. I added more wax to this one to seal in the collaged materials, then scraped wax and added a bit more black. It was telling me it wasn't finished. My tablemate had an electric encaustic tool that you could dip in wax and then make fine lines. I grabbed some cadmium red and borrowed the tool and added some graffiti and wow! I loved it as did the teacher.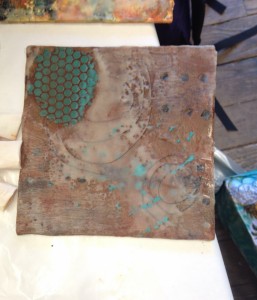 This brown silk piece was needing something, too and there was too much wax medium which was obliterating some of the details. Lorraine demonstrated how to use a stencil on our work so I grabbed some sequin waste and added the turquoise dots and then threw some turquoise pigment in the other corner. The dotted area is finished off with a blending of brown Shiva paint stick. Then I went to work with the razor blade and the little mini-iron. Here is how it looks, now. Lorriane thinks it needs something else.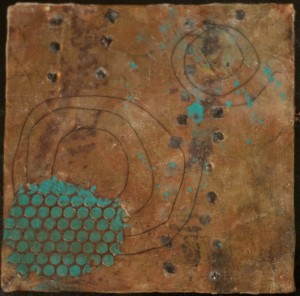 The cheesecloth piece was making me very happy after the wax had dried, but it needed a focal point. I picked up a magazine at the store last night and started looking for things I might collage in the work. I found several bits with varied stripes and I like what happened. Lorraine said this was her favorite of my work. Now that I know how to stencil with the wax, I can see how I could make little rectangles of color using pigmented wax. Just to recap, I started with a piece of hand-dyed cheesecloth that was rusted, adhered to the board and then branded before the final wax coating and collaging.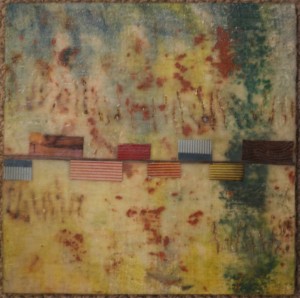 Lorraine encouraged us to do some drawing with wax to show the hand of the maker. I had an indigo dyed dryer sheet which I adhered to a board, covered with wax medium and then drew circles with the cadmium red.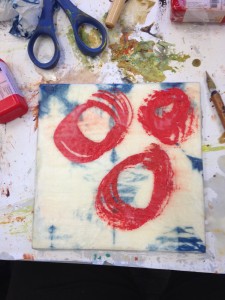 I had an indigo pigment oil stick that I picked up at Dick Blick and rubbed the piece with it. I love what happened.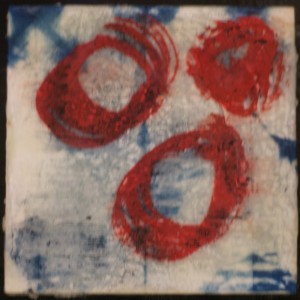 I had time to do one more piece. I just love the idea of using my unique fabric as a base for encaustic work so I grabbed a piece of shibori silk organza and adhered it to a board and went at it with a brush and wax. I also had some copper foil with me which I rubbed on to the piece.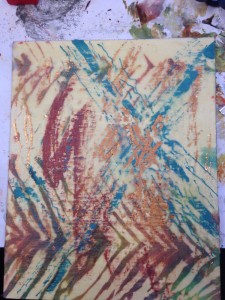 I felt it needed a focal point so I started looking for things from the magazine. Not sure this is it – still needs some work.
I enjoyed this so much. I am feeling that I want to pursue encaustic as a second medium for my work. Hope I can make it work.