I suffer from chronic sinusitis. And usually once a year I get a doozy of a sinus infection. So guess what – yes – I am miserable. I have vertigo and buzzing in my head that won't stop and a headache that nothing touches. I have been on amoxicillin since Tuesday with no help. Now they are switching me to Zithromax. So I must run to the pharmacy and get packed to fly to Portland tonight to spend the week-end with the grand kids and Steph and Jack.
I have been plugging along on my Saint's quilt. Here is the top, finished. Janet had some of that pointillist fabric in lots of colors. I printed the words on strips of this fabric on my Epson. Then, I did a border in a rainbow. Kinda like it. I don't know when I will get the quilting done. This is the biggest quilt I have made in awhile. It is 56" wide and and 45" tall.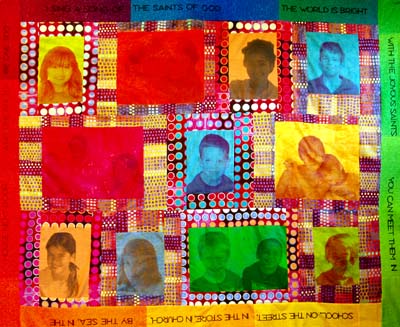 It looks as if the photos in the orange and fuchsia sections do not show, but they do.
I'll check in from Stephanie's with pics of Mia and Milo.