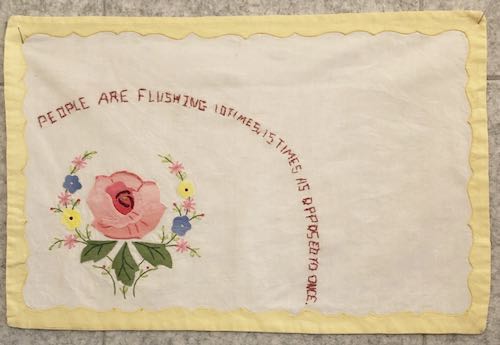 I have done two embroideries for The Tiny Pricks Project.
"Tiny Pricks is a public art project created and curated by Diana Weymar. Contributors from around the world are stitching Donald Trump's words into textiles, creating the material record of his presidency and of the movement against it.
Tiny Pricks Project holds a creative space in a tumultuous political climate. The collection counterbalances the impermanence of Twitter and other social media, and Trump's statements as president through the use of textiles that embody warmth, craft, permanence, civility, and a shared history. The daintiness and integrity of each piece stand in stark contrast to his presidency."
I found vintage napkins on Etsy to use for my embroidery. The top one was Trump's unhappiness with low flow water use for toilets and showers. He was going to have the EPA look into it.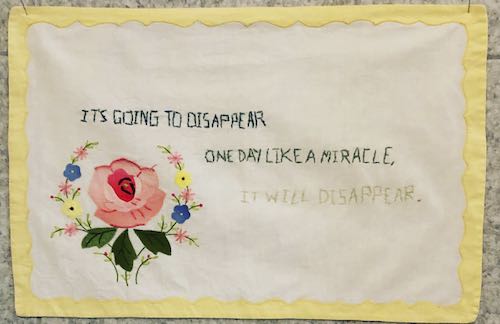 This one comes from one of his monologues about the Corvid-19 virus. I am kind of addicted to this so I am looking for more vintage linens to use.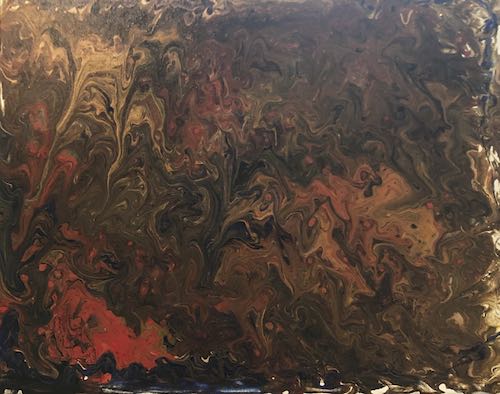 I finally picked up my last acrylic pour painting from the last class. I am disappointed with it. It dried to a very moody dark piece. I think I might try to add some life to it at some point.
These are my first attempts at adding imagery to the prayer flags. I used stencils and acrylic paint pens. I want to make it simple for children to do.
I need to make up some more, but I have been in a bit of a funk this week with my sinuses blooming from allergy season. I was also obsessed with the Super Tuesday elections. I am feeling so sad that Elizabeth Warren had to drop out. We do not have our primary until May 19th so I will have to choose between two old white guys. Actually, it is an easy choice for me.