My car thermometer was registering 103° when we drove home from New Seasons tonight. It was too hot to cook and even too hot to eat on the deck. I was so wiped out from the heat of a day in the OCAC classroom. I took a shower and Mr C and I drove to New Seasons for some takeout and a replenishment of some fruits and veggies. I had one glass of wine and I was loopy!!
Back to the workshop. The first thing I did this morning was to dye paint three pieces that had dried over night. Then, was the excitement of washing the dextrin out of the fabric that had been painted yesterday. Here is a sampling of the class work hanging to dry.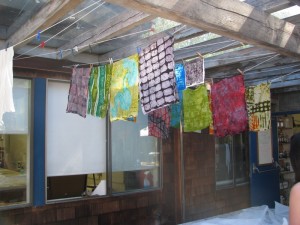 Here are my first two potato dextrin resist pieces.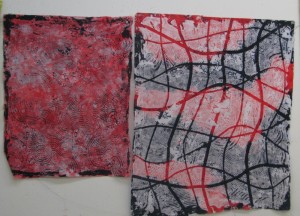 And closeups. I really love the mosaic-like lines that are created.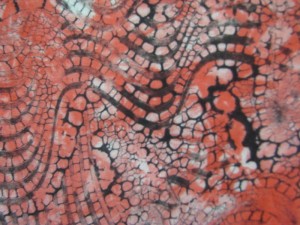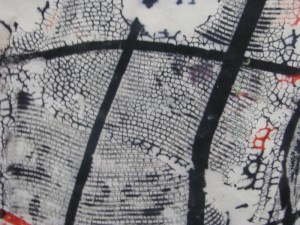 These pieces were created by stamping with corn dextrin as the resist. Click for better view.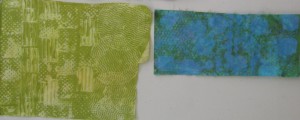 These pieces are drying  and will be ready for the thickened dye in the morning.
Potato dextrin, using a grid and netting to create patterns.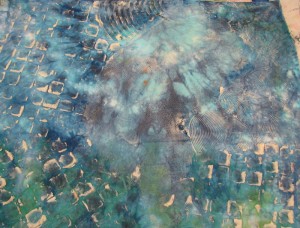 A cotton/silk blend, stamped with corn dextrose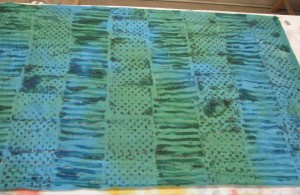 An ugly silk scarf with potato dextrin. I am going to paint it with turquoise.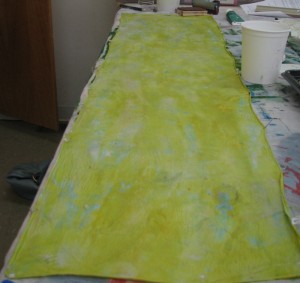 I am having a great time in this class. The members of the class are a wonderful, educated and enlightened group of women. There are 9 of us in all. Jeannette took such good care of us today.  She had her husband bring us cold lemonade and salty treats to combat the heat.